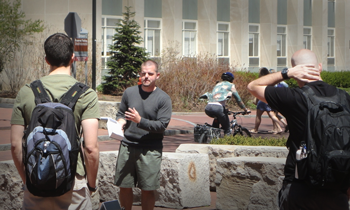 Feature
Thank Offering Video #2: Worldwide Outreach
In last week's video, Mark Brown offered suggestions on how to promote the Thank Offering in your local church. This week's video gives an overview of Worldwide Outreach.
Three more videos will be coming, timed to coordinate with the suggested distribution schedule for the bulletin inserts that were mailed to all churches earlier this month (see schedule, below)
In this week's video:
Danny Olinger discusses the origins and purpose of the Thank Offering, and how the gifts of God's people allow the Committee on Christian Education to provide and oversee such resources as OPC.org, church publications including New Horizons, and ministerial training.
Douglas Clawson discusses the progress of OPC foreign missions over the years, and the importance of the Thank Offering in helping the Committee on Foreign Missions to develop new mission fields.
John Shaw discusses how the participation of the Committee on Home Missions in the planting of new churches where the gospel is faithfully preached would not be possible without the financial support received through the Thank Offering.
Thank Offering Video Schedule
Week of Oct. 11, 2015: How to Promote the Thank Offering (Last week)
Week of Oct. 18, 2015: Worldwide Outreach (This week)
Week of Oct. 25, 2015: Christian Education
Week of Nov. 01, 2015: Home Missions and Church Extension
Week of Nov. 08, 2015: Foreign Missions
Share It!
We hope you will enjoy this video and use it to encourage your congregation to participate in the whole work of the whole church by giving to the Thank Offering:
Show the video in Sunday School
Embed the video on your church website
Share the video on your church Facebook page
Worldwide Outreach from OPC Home Missions on Vimeo.
Copyright © 2020, The Orthodox Presbyterian Church. All Rights Reserved.