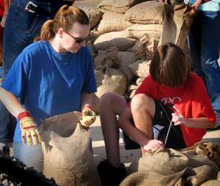 Feature
California Fires: The OPC Response
In recent weeks the OPC has reached out to help those affected by the October fires in California that burned nearly 500,000 acres, destroying over 2,000 homes and vehicles, and killing ten people. Mr. John Novinger, chairman of the Presbytery of Southern California's Diaconal Committee, has been at the forefront in seeking to help those in need. As the fires spread, Mr. Novinger telephoned and emailed countless churches and individuals to gather information and supplied updates on OPC.ORG so that members of the church would know how to assist and pray. Mr. David Haney, the OPC's disaster response coordinator, was on the ground right away, meeting with families and individuals locally to assess their needs. Soon after, volunteers from OPC congregations began assisting in clean-up efforts in coordination with others from Presbyterian and Reformed bodies.
Please pray for the Johnson family who are members of Bayview OPC in Chula Vista that lost their home to the fire. Also pray for two United Reformed Church families, two Presbyterian Church in America families, and one Reformed Church in the U.S. family that lost their homes in the blaze.
Workdays are scheduled throughout the months of December and January to assist those in need. Contributions to help in further diaconal ministry may be sent to the Orthodox Presbyterian Church, c/o the Committee on Diaconal Ministries with the notation "California Fire Relief" to P.O. Box P, Willow Grove, PA 19090.
Below are a number of pictures from recent relief and recovery efforts.
Copyright © 2020, The Orthodox Presbyterian Church. All Rights Reserved.