Ordained Servant Online

Machen's Christianity and Liberalism Published in Polish
Gregory E. Reynolds
I first read J. Gresham Machen's Christianity and Liberalism in August of 1976, just before matriculating at Westminster Theological Seminary. Beginning in 1975, after graduation from Covenant College, I began getting to know Machen by reading Ned Stonehouse's biography, which I had purchased at an unlikely place—the Bible Institute of New England—in 1973 (2nd edition, 1955). At the time Machen looked like an interesting man. The dust cover made it plain that he was a man of theological and personal substance, but I knew nothing more about him. Little did I know what the future held. The biography introduced me to everything of Machen's then in print. I devoured them all, Christianity and Liberalism being the last of Machen's writings that I read before entering seminary the following month, September 1976. It was Machen and his work more than anything else that motivated me to go to Westminster and during my first year to join the Orthodox Presbyterian Church.
I married into Polish heritage; my wife, Robin, is half Polish from her mother's side. So, when Dr. Dariusz Bryćko approached me about an article proposal for Ordained Servant on Machen's view of Christian scholarship in 2012[1] his Polish heritage caught my eye. We have been in touch ever since. Bryćko's love of Machen and his work is evident in his choice of Christianity and Liberalism to be the first in Tolle Lege's new primary-source series called "Intelektualne Wstrząsy," which means something like "intellectual shakeup" or "jolt." The goal of the series is to introduce Polish readers to paradigm-shifting works by key thinkers of the Presbyterian and Reformed tradition. Here is the announcement:
In June, 2020, J. Gresham Machen's Christianity and Liberalism was published in Polish by Tolle Lege Institute in Warsaw, Poland, run by Dr. Dariusz Bryćko (former OPC member and current ARP minister). Machen wrote his classic defense of Christian orthodoxy in 1923 to counter rising theological liberalism. But given the intensity and durability of the unorthodox zeitgeist, Christianity and Liberalism is even more relevant for readers today than it was for its original audience 100 years ago. Machen insists that liberal Christianity is not Christianity at all, but another religion altogether. His brave words give orthodox Christians tools to identify and resist the most dangerous kind of false teaching—that from within the church.
Tolle Lege Institute's mission is to translate classics of the Presbyterian/Reformed tradition to Polish, operate a study center with over 8,000 print and digital books, host conferences on Reformation topics, and reintroduce forgotten Polish Reformers like Johannes a Lasco to Poland's staunchly Roman Catholic society. Upcoming projects include The Westminster Confession of Faith and Louis Berkhof's Summary of Christian Doctrine. Learn more at TolleLegeInstitute.org.
The cover of the Polish edition of Christianity and Liberalism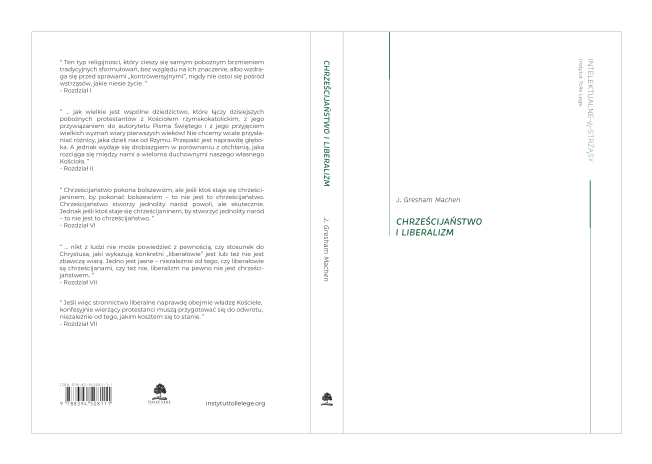 Endnote
[1] Dariusz Bryćko, "Steering a Course between Fundamentalism and Transformationalism: J. Gresham Machen's View of Christian Scholarship" Ordained Servant 21 (2012): 91–101.
Gregory E. Reynolds is pastor emeritus of Amoskeag Presbyterian Church (OPC) in Manchester, New Hampshire, and is the editor of Ordained Servant. Ordained Servant Online, August–September 2020.