Reviews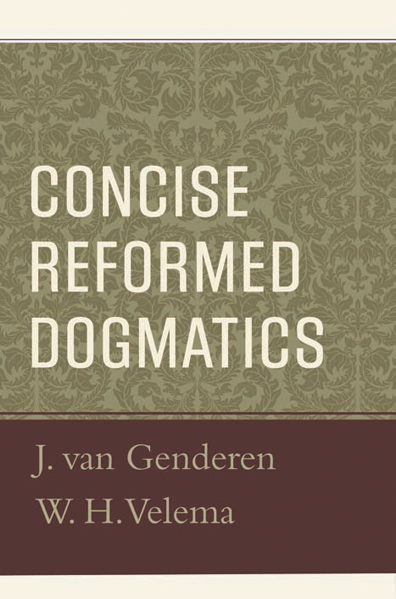 Concise Reformed Dogmatics
J. van Genderen & W. H. Velema
Reviewed by: Mark A. Garcia
Date posted: 11/27/2011
Concise Reformed Dogmatics, by J. van Genderen and W. H. Velema. Published by P&R, 2008. Hardback, 944 pages, list price $59.99. Reviewed by OP pastor Mark A. Garcia.
This is a crisp, clear treatment of Reformed theology. Most of the chapters were written by Van Genderen; only a few were written by Velema. Both professors served in Apeldoorn at the Theological University of the Christian Reformed Churches in the Netherlands. For the authors, Scripture is the clear "norming norm" of all theology, and their effort to summarize the Bible's teaching, both in its Reformed expression and in the context of twentieth-century discussion, is refreshing. This is a lively text that stimulates the reader to investigate matters further. Combined with the doxological thrust of the book, a vibrant, smooth treatment of the questions of theology makes this a truly edifying, enjoyable read.
There are many virtues to the book. Heavily dependent on Calvin and the major lights of the Dutch Reformed tradition, the discussions in this volume of all major questions are essentially sound and easily located within the Reformed tradition. Its extensive attention to ethics is praiseworthy, its emphasis on definitive sanctification is salutary, and its explanation of the spheres of human existence is a rare gem.
That said, several nagging points appear throughout. For instance, attention to the patristic and especially medieval foundations of Reformed theology is sparse. In their rejection of the weaknesses of both federalism and realism (as explanations for the spread of sin), the authors raise valid questions but do not provide a clear alternative. Related to this, the discussion of the imputation of Adam's sin is quite weak. The explanations of Presbyterianism, the mode of baptism, and the nature of covenant also do not exhibit the authors' typical acuity and care.
Is the book successful, then? No book will accomplish everything, of course. Theological books should be evaluated in terms of their contributions or potential uses. Despite the enthusiasm that seems to meet every new publication these days, let me be clear: this is not a book that belongs on every family's bookshelf. Still, it is an instructive, useful resource for gaining breadth in our Reformed theology. It provides access, in English, to the rich discussions in theology and ethics that took place over the last century on the Continent, discussions from which most of us could benefit.
Louis Berkhof's one-volume Systematic Theology has served well for decades as a sturdy treatment of Reformed thinking. It is revered for good reason, even if the dust it collects may suggest more reverence than use! Undoubtedly, Berkhof's work needs a worthy successor, but Concise Reformed Dogmatics is not that kind of accomplishment. However, used cautiously as a guide to theological work among our Continental brethren, and as a map to the contours of the received Reformed tradition, it is an interesting and edifying resource.
Copyright © 2020, The Orthodox Presbyterian Church. All Rights Reserved.