Reviews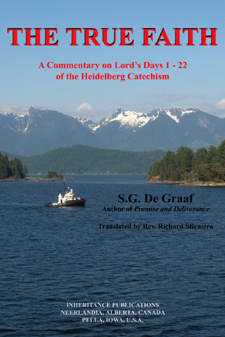 The True Faith: A Commentary on Lord's Days 1–22 of the Heidelberg Catechism
S. G. De Graaf
Reviewed by: Thomas A. Martin
Date posted: 01/22/2012
The True Faith: A Commentary on Lord's Days 1–22 of the Heidelberg Catechism, by S. G. De Graaf. Published by Inheritance Publications (www.telusplanet.net/public/inhpubl/webip/ip.htm), 2011. Paperback, 495 pages, list price $19.95. Reviewed by OP pastor Thomas A. Martin.
"True faith," declares the Heidelberg Catechism, "is a sure knowledge whereby I accept as true all that God has revealed to us in His Word" (Lord's Day 7, Q&A 21). Here we see the warmly personal tone of the Heidelberg Catechism. Simon G. De Graaf (known to many for his Promise and Deliverance) captures this personal tone in his exposition of Lord's Days 1–22 (Q&A 1–58), but does so without lapsing into individualism. Indeed, he explains that the "I" of the Catechism is "as a member of the church, and expresses a communal faith" (p. 16). De Graaf is careful to locate the confessing individual in the context of the church, noting eventually that "every believer shares in the blessing that in Christ is bestowed on the whole church. This confession represents the genuine triumph over individualism" (p. 447).
Here is not primarily a work of systematic theology (although there is system), but pastoral theology—reflecting a pastor's heart. The rich ecclesiology underlying De Graaf's treatment of doctrine frequently emerges, as in the way he deals with Christ's offices, which he relates to the special offices in the church as well as to the general office of believer, making the observation that "it is so amazing that in Reformed circles, where we normally speak of Christ's office, it seems so difficult to realize and accept our own call to office" (p. 260). Indeed, De Graaf repeatedly draws us back to Christ: "Faith first of all reaches out to Christ … and always must be directed in the first place to Christ" (p. 448; the implications of this for preaching are then noted). We are often reminded that doctrine leads to worship (but with the caution on page 428 that "adoration does not increase when we would wish to know everything that is in God"). With these emphases, it is not surprising to find that De Graaf's writing often borders on the devotional, as in the section on "My God and My Father" (pp. 197–201).
Although pastorally and devotionally flavored, this is not light reading. De Graaf doesn't hesitate to take up topics like supra- and infralapsarianism (more than once!) and offers much closely reasoned doctrinal exposition. This is a book to be digested slowly and is therefore probably not an ideal entry-level introduction to the Heidelberg Catechism. The original Dutch is well translated, but the language retains the gravitas of an earlier day. The book itself is well produced and bound, but readers (and note takers) will wish for more white space and wider margins. The True Faith will be particularly valued by those seeking pastoral application of Reformed doctrine (including Christian counselors) and by reflective readers who will savor its rich devotional statement of theology.
Copyright © 2020, The Orthodox Presbyterian Church. All Rights Reserved.