Reviews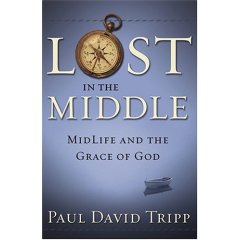 Lost in the Middle: Midlife and the Grace of God
Paul David Tripp
Reviewed by: Arthur J. Fox
Date posted: 12/11/2005
Lost in the Middle: Midlife and the Grace of God, by Paul David Tripp. Published by Shepherd Press, 2004. Paperback, 348 pages, list price $15.95. Reviewed by OP pastor Arthur J. Fox.
Paul Tripp (Age of Opportunity) presents us with a very useful book. It speaks to those experiencing a midlife crisis. "The struggles of midlife," he says, "result from a collision of powerful personal awareness and powerful personal interpretations." It is marked by such things as dissatisfaction with life, disorientation, discouragement, dread, disappointment, disinterest, distance, and distraction. We find that our dreams are no longer going to be achieved, that we are not invincible, that we regret past words and actions, and/or that we are getting older. As a result, we lose hope and think that life has come to an end.
Tripp offers great hope. What we view as negative occurrences in our lives, as defeats of our dreams, and other downsides of getting old, are really God's way of getting us to see that he is in control of our lives. When we insist on controlling our present and future, we run into God's sovereignty. It is only by seeing God's kindness in showing us our own weakness and his power and love for us, that we will be made whole and hopeful. Failing to do that can result in sin and even self-destruction.
The question of who is God looms large in the diagnosis of a midlife crisis and the resolution of the problem. In reading the stories Tripp uses from the lives of counselees, I was struck by a consistent pattern: often the one struggling with midlife has failed to maintain a vital,
living relationship with God through actively using the means of grace. There are other causes, too, such as health crises, marital problems, and practical idolatry.
This book is quite readable. Although it is directed at the midlife crisis, it applies to more than that. Read it with the intention of putting it into practice. Its only problem is the binding. I had not finished the third chapter before the binding started to come apart at the spine.
Copyright © 2020, The Orthodox Presbyterian Church. All Rights Reserved.