Reviews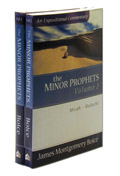 The Minor Prophets
James Montgomery Boice
Reviewed by: Arthur J. Fox
Date posted: 06/04/2006
The Minor Prophets, by James Montgomery Boice. Published by Baker, 2002. Two volumes, hardback, 672 pages, list price $49.95. Reviewed by OP pastor Arthur Fox.
James Montgomery Boice (1938-2000) was the pastor of Tenth Presbyterian Church in Philadelphia and the speaker on the Bible Study Hour radio broadcast for more than thirty years. His expository commentary on Matthew has already been reviewed in this magazine. I am tempted to say "ditto" (with appropriate adjustments) for this exposition of the Minor Prophets (based on sermons Boice preached). But let me make some brief remarks.
These two volumes can make the Minor Prophets (Hosea, Joel, Amos, Obadiah, Jonah, Micah, Nahum, Habakkuk, Zephaniah, Haggai, Zechariah, and Malachi) apprehensible to anyone. Clearly, Dr. Boice studied these books of Scripture with care. He understood the issues involved in the interpretation of them. Boice strove to bring to light the message of the Minor Prophets with clarity and pertinence. In my opinion, he hit his target very accurately.
Is Christ clearly preached from these books? Yes. Is Paul's description of the usefulness of Scripture in 2 Timothy 3:16 fulfilled? Yes. Every exposition presented here includes doctrine, rebuke, correction, and training in righteousness. These volumes may be high priced (look for a good discount), but they will quickly repay the cost by edifying the reader.
Copyright © 2020, The Orthodox Presbyterian Church. All Rights Reserved.