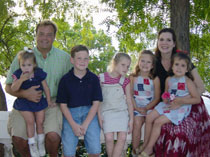 Feature
Missionary Matt Baugh Killed in Haiti
Mark Bube
May 4, 2006. Greetings in the name of our Lord Jesus Christ, through whose resurrection we have been born again to a living hope. This is Mark Bube, reporting from the Committee on Foreign Missions of the Orthodox Presbyterian Church.
With sad hearts, we regret to inform you that the Rev. Matthew D. Baugh, OP missionary to Haiti, was killed in a motorcycle accident this morning. He died on the way to the hospital. His wife, Shannon, was with him in the transport.
No information is yet available regarding funeral arrangements, etc. Lord willing, Associate General Secretary the Rev. Douglas B. Clawson and his wife, Pat, together with Matt's mother, are leaving for Haiti tonight, and should be in Port-au-Prince tomorrow morning.
Matt is survived by his wife, Shannon, and five children: Andrew (10), Laura (8), SaraGrace (6), Jessica (5), and Margaret (2). Please keep them much in your prayers.
"Jesus said to her, 'I am the resurrection and the life; he who believes in me shall live even if he dies, and everyone who lives and believes in me shall never die'" (John 11:25-26).