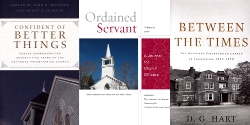 Feature
New Volumes Available!
We are pleased to announce the publication of four new volumes that will be of great interest to members and friends of the Orthodox Presbyterian Church.
In conjunction with the 75th anniversary, the Committee for the Historian has published two new volumes which are now available for online ordering.
Confident of Better Things by John Muether and Danny Olinger, eds. - $12 Table of Contents - John Muether and Danny Olinger's Confident of Better Things is an offering of thanksgiving to God for the Orthodox Presbyterian Church on her seventy-fifth anniversary. In the spirit of its predecessor, Pressing Toward the Mark (1986), this anthology collects diverse voices in the church as it seeks to assess the convictions and struggles of this small manifestation of the visible church. Contributors include Mark T. Bube, Gary W. Davenport, William D. Dennison, Bryan D. Estelle, J. V. Fesko, Richard B. Gaffin, Jr., Mark A. Garcia, James S. Gidley, W. Robert Godfrey, John R. Muether, Richard A. Muller, Robert B. Needham, Stephen J. Oharek, Danny E. Olinger, Thomas R. Patete, Ronald E. Pearce, Gregory E. Reynolds, Jack W. Sawyer, Roger W. Schmurr, John S. Shaw, Alan D. Strange, Robert B. Strimple, Lane G. Tipton, Stephen J. Tracey, A. Craig Troxel and Thomas E. Tyson.
Between the Times by D.G. Hart - $10 - D.G. Hart's Between the Times explores the history of the Orthodox Presbyterian Church between its founding and contemporary periods. It attempts to examine in greater detail than any existing account the representative events, decisions, and efforts of the OPC from the rise of neo-evangelicalism during the 1940s down to the debates over and repercussions from Joining and Receiving in the 1980s. The book is not comprehensive in the sense that it encyclopedically covers the OPC during these years. But a sense of the OPC's development, mission, and character does clearly emerge from the activities, debates, and planning that absorbed the attention of commissioners to the Assembly and that writers for the Presbyterian Guardian and New Horizons communicated to those magazine's readers.
The Committee on Christian Education has published the 2010 printed version of the Ordained Servant journal for church officers. A free copy is available to OPC officers, licentiates, and men under care. It is also available for free download.
The OPC Ministerial Register, 1936-2010, has been completed and will be available by mid-June.