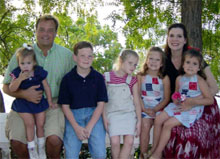 Feature
2006 General Assembly Offering
The Rev. James L. Bosgraf, moderator of the Seventy-second General Assembly, has announced that the offering at the opening worship service of the 2006 General Assembly will be designated for the Baugh Family Diaconal Fund, administered by the Committee on Foreign Missions to aid the widow and five young children of the Rev. Matthew D. Baugh, who was killed in a traffic accident in Haiti on May 4, 2006.
The moderator is publicizing this information so that people can come prepared to participate in this special offering. "Perhaps some churches would like to make a special gift to this fund through this offering," Mr. Bosgraf said.
The Seventy-third General Assembly convenes in Palos Heights, Illinois at 8:00 p.m. on Wednesday, June 21, 2006.
For further information on the Baugh Family Diaconal Fund, click here.