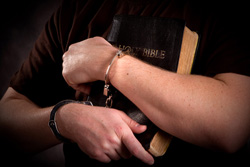 Feature
Letters from Prison: A Request for Prayer
Mark T. Bube
On November 6, 2012, the Rev. José Dilson, a missionary of the Presbyterian Church in Brazil (the IPB—with which the OPC has ecclesiastical relations) was arrested in Senegal (West Africa) and has been held in a filthy and overcrowded prison since then. Earlier this week, our IPB brothers wrote us to ask you to intercede before the Throne of Grace on Pastor Dilson's behalf. Up until then, our IPB brothers write:
We have kept this matter much to ourselves, for we had hopes that Brazilian governmental pressures would lead to a quick release, but it doesn't seem that this will occur. Despite a visit in loco in the city of M'bour by a Brazilian Senator (Magno Malta) at the end of November 2012, and a speech given by him in the Brazilian Senate, as well as after many contacts with our Foreign Relations Ministry, nothing is moving from our government side.
Pastor Dilson and a Christian sister from another missionary agency were ministering to abandoned children in the streets of Dakar, where, our IPB brothers continue:
They would give decent housing and health care for these children, professional orientation and, of course, teach them general education and Christian principles and values. Even though they were helping children in a situation of risk, they were accused of using the orphanage for trafficking and corruption of children, as well as for banding together to break the law. Senegal, with its 14 million inhabitants, has a Muslim majority. Chil[d] trafficking is a major problem in that country, and our missionary is in no way involved in any of the matters for which he is being accused, neither is missionary Zeneide Novaes. Representatives from our [official foreign missions agency] have visited the country and these missionaries, and they are firmly convinced that the arrest has been on account of religious persecution.
To assist you in carrying this matter to your heavenly Father, we commend to you two letters from Pastor Dilson (February 6 and February 25), together with a fuller description of the circumstances of his ministry from the December 2012 newsletter of the group, Spirit of Martyrdom.
Please join with us in prayer, asking the Lord—
to place His protective hedge around our brother and sister in Christ who are being held in prison;
to continue to give them opportunities to testify to their cellmates of the hope that belongs to those who are in Christ;
to cause the hearts of their guards to be tenderly inclined towards them;
to give much wisdom to the government officials and others who are actively working for their release;
to fan into flame a desire to rule in righteousness in the hearts of the officials responsible for their imprisonment; and
to measure to each of these precious ones grace sufficient for the moment, that they might be able to endure this time of testing for the name of Christ and, like those who have gone before us, even be able to rejoice at being counted worthy to suffer shame for His name
—that each of us might have another occasion to affirm that God is good!
But recall the former days when, after you were enlightened, you endured a hard struggle with sufferings, sometimes being publicly exposed to reproach and affliction, and sometimes being partners with those so treated. For you had compassion on those in prison, and you joyfully accepted the plundering of your property, since you knew that you yourselves had a better possession and an abiding one. Therefore do not throw away your confidence, which has a great reward. For you have need of endurance, so that when you have done the will of God you may receive what is promised. For, "Yet a little while, and the coming one will come and will not delay; but my righteous one shall live by faith, and if he shrinks back, my soul has no pleasure in him." But we are not of those who shrink back and are destroyed, but of those who have faith and preserve their souls. (Heb. 10:32–39)