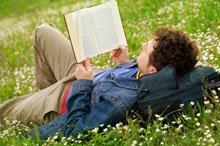 Feature
Ministerial Training Institute
It's not too late to register! The Ministerial Training Institute of the OPC (MTIOPC) will begin its fall semester on September 1. What an excellent opportunity this is to study under seasoned ministers, and to meet many new brothers in the OPC!
There is still time to register for one of the several excellent courses that are being offered. Rev. Tom Tyson is teaching a course on catechetics entitled "Covenant Nurture"; Rev. Stuart Jones is teaching a course on church government entitled "Presbyterian Polity and the Orthodox Presbyterian Church"; and Rev. George Knight is teaching a course on the "Westminster Standards." The intensive training week is to be held in Charlotte, North Carolina.
MTIOPC courses are available free of charge to ministers, licentiates, and men under care of the OPC. Others may take the course for a minimal $100 fee. To learn more, or to download a registration form, please click here.