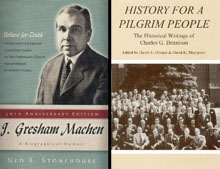 Feature
New OPC Store Online!
The OPC Committee for the Historian currently has eleven publications they have published for the building up of the church. Until now, the only way to order these resources was to mail your payment to the OPC administrative offices in Pennsylvania.
Now, you can also order these publications online, with the convenience of a secure service using your bank account or credit card. In addition, if your order exceeds $75, you will receive free shipping!
If you have not recently reviewed the many publications published by the Committee for the Historian, please take this opportunity to become reacquainted with these wonderful resources. In addition to the nine books that are currently available, you can also purchase a video history of the OPC on DVD as well as the minutes of the General Assembly from 1936-2004 which are in Adobe PDF format and are searchable.
Click here to view and order these materials online.