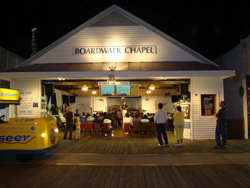 Feature
Boardwalk Chapel Needs Skilled Workers in May!
Janet L. Birkmann
The OPC's Boardwalk Chapel in Wildwood, New Jersey, is looking for volunteers (individuals or teams) skilled in carpentry, plumbing, and painting to help prepare the Chapel and its ancillary buildings for its busy summer season that begins Memorial Day weekend!
Dates:
Work can be scheduled for any weekday or weekend from Thursday, May 1 thru Thursday, May 22, 2014, based on volunteers' availability. Some of the work may also be scheduled for Tuesday, May 27 thru Friday, June 13, 2014.
Scope of Work:
Four doors at the Dunn House need to be installed or replaced.
A stall shower at the Dunn House needs to be removed and replaced with a donated tub and surround. (This is where the plumber is needed!)
A team of 3–4 individuals is needed to prime and paint the recently installed sheetrock inside the Chapel. There is also painting to be done in the apartments behind the Chapel.
The front deck on the Kay House needs to be replaced. (This could be done in June.)
Contact:
For further details or to schedule a work date for you or your team, contact:
Rich Seither, Maintenance Coordinator
Phone: 609-600-7754
Email: trishaseither@yahoo.com
To Learn More about the Boardwalk Chapel:
Visit the Boardwalk Chapel's website at www.boardwalkchapel.org or their Facebook page.