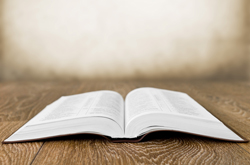 Feature
Learning to Preach Christ in Every Sermon
The Ministerial Training Institute of the Orthodox Presbyterian Church is offering a summer class on Homiletics. This course is designed for those seeking to learn to preach Christ in every sermon or who hope to be reenergized in their preaching. The class, which is limited to eight students, is available to OP pastors, men licensed to preach, and those who are under care of their presbytery.
Longtime instructor Bill Shishko will be joined by Douglas Clawson, associate general secretary of Foreign Missions, to teach this two-credit course. Both seasoned pastors and preachers, the men together share 65 years of preaching wisdom and experience.
Classes begin on Monday, June 2, with periodic phone sessions between the instructors and students. The course culminates with Intensive Training, an in-person practicum that is mandatory for all students. Intensive Training begins with lectures on Theocentric and Christocentric preaching, followed by discussion on sermon preparation. The students then preach a sermon and sit under their instructors' preaching.
Intensive Training will be held at Grace Presbyterian Church in Columbus, Ohio. Students typically travel to the church on Wednesday, July 23. Classes are held from Thursday, July 24, through Sunday night, July 27. Travel scholarships are available. Lodging, local transporation, and meals are provided by the congregation.
Registration deadline is Thursday, May 15. An application and a course description are available on the MTIOPC page.
For questions, contact Pat Clawson, MTIOPC coordinator, at ccesec@opc.org or call 215-830-0900, Ext. *828.