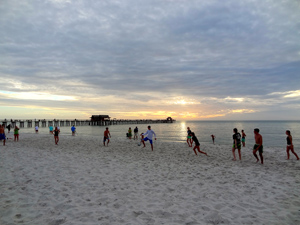 Feature
Your Help is Requested
David P. Nakhla
Are you or your church still on the fence about participating in short-term missions this summer? It's not too late to decide! There are still a number of opportunities to serve domestically. We have received requests from various corners of the OPC for teams or individuals to "Please, come help!" These are efforts that the local church leadership feels are worthy to be carried out this summer. But, they need your assistance to do it!
If this is your first time to consider short-term missions, remember—"Learn by doing" is a great way to go! Here are a few options:
Church-Planting Outreach in Naples, Florida:
Pastor Hausler and the new church plant in Naples, Florida, have many ways to utilize your youth group to assist them in reaching out in their area—including playing soccer and volleyball on the beach! Pastor Hausler has lots of short-term missions experience to share. Come be a part of this effort!
Hurricane Sandy—Final Cleanup Work in Seaside, New Jersey:
Site Coordinator, Charlie Farrell, thanks the Lord for all the good work that has been accomplished in ministering to more than a dozen OPC families. Yet even 18 months after Hurricane Sandy, there still remains some work to be done on two homes. Could you give a week or even a few days to help?
Vacation Bible School for Children in Cincinnati, Ohio (June 9–13, 2014):
Pastor Malamisuro and Elder Taylor will see that much of the preparation work is accomplished by the church before a team arrives, but, they do need a team of teachers to help them put on their program. Is your church within driving distance of Cincinnati, enabling you to help?
Vacation Bible School for Children in Middletown, Delaware (June 23–27, 2014):
For Pastor Harting and Grace OPC, "the show must go on," with or without help. But, they sure would appreciate sharing this outreach work with other brothers and sisters. Are you in eastern Pennsylvania, Maryland, or New Jersey, and willing to help?
Creative Outreach During July 4th Celebration in Kentwood, Michigan (July 2–6, 2014):
Pastor Neumair and his church creatively use their community's celebration of this national holiday as an outreach for their church. If you're within driving distance of Kentwood, Michigan, would you come, learn, and help?
Now is the time to move forward. The Lord will sustain you and you will be blessed in this good work if you choose to participate.
For all the details about these and other opportunities for short-term service in the OPC, visit www.opcstm.org or contact David Nakhla, OPC Short-Term Missions Coordinator, at nakhla.1@opc.org.