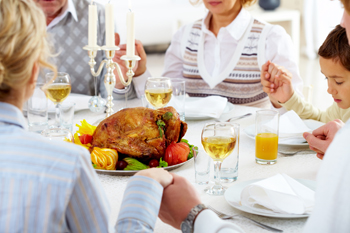 Feature
A Thanksgiving Jewel
Andrew Moody
This week we will gather with friends and family to give thanks to God for his abundant blessings. As we gather together with loved ones, we resonate with Psalm 92:1, "It is good to give thanks to the Lord." However, for many of us this spirit of thankfulness is fleeting. The celebration on Thursday gives way to the madness of Black Friday.
There is a problem with our Thanksgiving. It is too often hollow and incomplete. We are quick to give thanks for the things we like, while withholding true thanks for areas in our life that do not meet our expectations.
We are not truly thankful, because we are not content. Often our discontentment focuses on this world's goods. We are not content with our wages (Luke 3:14), we desire the newest and most sophisticated goods and gadgets because the ones we have are considered less desirable (Heb. 13:5), we are unhappy with our current life situation or social status (Phil. 4:11–12), or maybe we are in the midst of a season of suffering (2 Cor. 2:10).
The world holds contentment in contempt. Our hearts are prone to wander, and brilliant marketing minds focus all of their attention on breeding discontentment in order to raise their client's bottom line.
What is your bottom line in Christ? What is the Bible's standard for contentment? The Apostle Paul lays this out clearly for us when he writes,
"Now there is great gain in godliness with contentment, for we brought nothing into the world, and we cannot take anything out of the world. But if we have food and clothing, with these we will be content." (1 Tim. 6:6–8)
This is contentment in Christ. When you are tempted to set your heart on this world's goods, ask yourself, "am I naked," "am I starving?" If you are like me, you have a few extra pounds to spare and a closet that could stand a good thinning out.
We are blessed! We are tempted to think we are not blessed because we feel entitled to more than we have. This season, take stock in the many ways that God is blessing you right now. Even if your life is in a shambles and nothing is how you want it to be, God has given you breath in your lungs to praise his name. He has preserved you another day and is giving you new opportunities to glorify him. He has lavished his grace on you and given you every spiritual blessing in the heavenly places in Jesus!
No matter how bad things are in your life, your suffering today doesn't begin to compare to the glory that is still coming (Rom. 8:18)!
May the Spirit fill us with contentment today and every day, so that we can truly give thanks to God!
For further reading, I heartily recommend The Rare Jewel of Christian Contentment by Jeremiah Burroughs. Chapel Library has a free abridgment for download in several formats.