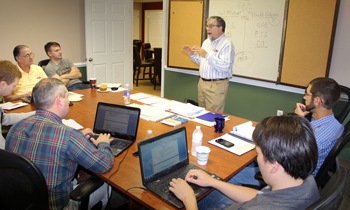 Feature
Thank Offering Video #3: Christian Education
The OPC is pleased to present the 3rd in a series of videos that are being made available this year to help promote the Thank Offering. The videos are timed to coordinate with the suggested distribution schedule for the bulletin inserts that were mailed to all churches earlier this month (see schedule, below).
This week's video focuses on the work of the Committee on Christian Education (CCE). General Secretary Danny Olinger gives a brief history of the origins and purpose of the Thank Offering, and describes how the gifts of God's people make it possible for the CCE to provide and oversee such resources as:
New Horizons
OPC.org
Church publications (i.e., Confession of Faith, Book of Church Order)
Ministerial training classes, conferences, and seminars
Supporting internships in local churches
Special Committee on Marriage and Sexuality
"Every year I am so amazed at how much the people of God give to the Thank Offering. It is such a blessing ... for a church our size to receive the gifts that we do," says Danny Olinger.
Thank Offering Video Schedule
Week of Oct. 11, 2015: How to Promote the Thank Offering
Week of Oct. 18, 2015: Worldwide Outreach
Week of Oct. 25, 2015: Christian Education (this week)
Week of Nov. 01, 2015: Home Missions and Church Extension
Week of Nov. 08, 2015: Foreign Missions
Share It!
We hope you will enjoy this video and use it to encourage your congregation to participate in the whole work of the whole church by giving to the Thank Offering:
Show the video in Sunday School
Embed the video on your church website
Share the video on your church Facebook page
Christian Education from OPC Home Missions on Vimeo.