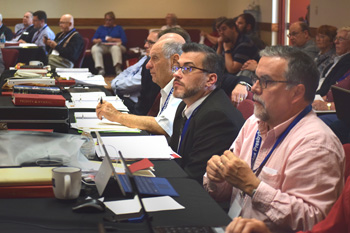 Feature
The 83rd General Assembly
David J. Harr
The 83rd General Assembly of the Orthodox Presbyterian Church met at Sandy Cove conference center, North East, Maryland, from June 8–13, 2016 The running daily report, written by OPC minister David J. Harr, appears here.
The official 83rd GA photo (full resolution) is posted here (photo by Tricia Stevenson).
The General Assembly Slideshow is now online, featuring photographs by Tricia and Rachel Stevenson!