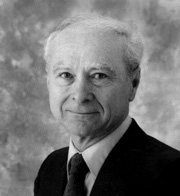 Feature
Meredith G. Kline 1922-2007
Andrew Moody
On April 14, the Lord called his servant Dr. Meredith G. Kline home to glory.
Dr. Kline was ordained by the Presbytery of New Jersey of the Orthodox Presbyterian Church on March 5, 1948. After serving as pastor of Calvary OPC in Ringoes, New Jersey for two years, he was called upon to use his gifts to train future pastors and teachers at the seminary level.
For over 50 years, Dr. Kline served Christ as a professor of Old Testament. He earned a reputation as an influential theologian and respected scholar while teaching at Westminster Theological Seminary, Gordon-Conwell Theological Seminary, and Westminster Seminary California. Both Gordon-Conwell and Westminster Seminary honored him by appointing him professor emeritus.
There are few ministers in the OPC and many other Reformed churches around the world who have not benefited from Dr. Kline's labors. Among his many contributions to Old Testament scholarship are his application of ancient Near Eastern treaty forms to the Old Testament, and particularly the book of Deuteronomy, his love and promotion of covenant theology, and his development of the Framework Interpretation in regards to the days of creation in Genesis 1 (see the the Report of the Committee to Study the Views of Creation, which was submitted to the 71st General Assembly).
Dr. Kline was a prolific writer. OPC Historian John Muether has put together a bibliography of Dr. Kline's works which is available here. Most of his books remain in print. Several of his more influential works are available for free download on the Meredith Kline Page.
There will be a service in memory of Dr. Kline at First Presbyterian Church in Ipswich, Massachussetts on Wednesday, April 18 at 11:00 a.m. In lieu of flowers, the family (at the request of Dr. Kline) requests that donations be made to Faith Promise, care of First Presbyterian Church.
Please pray for Mrs. Grace Kline and the whole family at this time of sadness, even as we rejoice in the grace shown us in Jesus Christ.