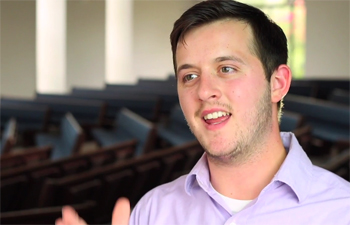 Feature
Thank Offering Video #3: Christian Education
In this week's video, we are reminded that our gifts to the Thank Offering support the work of the Committee on Christian Education as it seeks to relieve our interns from worldly care as they pursue a full training schedule in conjunction with their seminary courses, including:
Writing and delivering sermons
Teaching Sunday School
Leading Bible studies
Going on member visitation
Attending session meetings
And more!
Year-Long Intern Jonathan Cruse, from Providence OPC in Temecula, California, says:
One of the wonderful things about the OPC is the strong emphasis we place on internships...
The money that comes in through the Thank Offering that's given to us interns is essential in the work that we do...
It's in the local church, while serving as interns, that we have the opportunity to put hands and feet to the ideas that we are learning in the classroom back at seminary...
Thank Offering 2016 Video Schedule
Week of Oct. 3, 2016: How to Promote the Thank Offering
Week of Oct. 10, 2016: Worldwide Outreach
Week of Oct. 17, 2016: Christian Education (THIS WEEK)
Week of Oct. 24, 2016: Home Missions and Church Extension
Week of Oct. 31, 2015: Foreign Missions
Share It!
We hope you enjoy this video and will use it to encourage your congregation to help support our interns by giving to the Thank Offering:
Show the video in Sunday School
Embed the video on your church website
Share the video on your church Facebook page
CE2016 from OPC Home Missions on Vimeo.