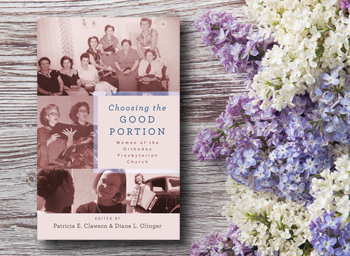 Feature
Choosing the Good Portion
The Committee for the Historian announces the publication of Choosing the Good Portion: Women of the Orthodox Presbyterian Church. This book shares the stories of more than ninety women who have served the Lord through the OPC since the eve of the denomination in 1936 through today.
Choosing the Good Portion focuses on how these women sacrificed and served in their local churches or throughout the OPC. This book, however, is not simply to honor certain well known OP women. Stories of missionaries mingle with profiles of women in the pews who exemplify hospitality, giving, praying, teaching, or sharing music or their faith. Others share struggles with their faith or how the Lord strengthened them through the loss of their husband or child.
Coeditors Patricia E. Clawson and Diane L. Olinger hope that the next generation of women will be inspired in their service to the Lord through reading the profiles of ordinary women who served in extraordinary ways.
Both women and men readers will profit from this 480-page book as it gives an on-the-ground view of the birth and growth of the OPC—making it the perfect gift. Groups, such as Bible studies and Sunday school classes, also will benefit from studying these stories.
The $15 book is available in the OPC store. Shipping is $4 or free for orders of $35 or more.