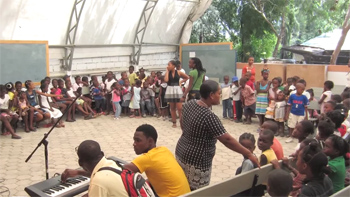 Feature
Thank Offering Video #5: Foreign Missions
Thank Offering Video #5 focuses on the ways in which our foreign mission fields are blessed by the gifts received through the annual OPC Thank Offering. "We're very thankful to see how the Lord is working and keeping his promise that he is the one who builds his church, and we are just servants in his hands," says OP Missionary to Uruguay, Rev. Mark Richline.
"I can't express enough how much it means to us to know that there are so many people (at home) remembering us and praying for us, especially at times when we feel so far away," continues Mark Richline.
"We are thankful to be able to go and to preach the gospel and to teach the doctrines of grace .... As they see their spiritual need, which is their fundamental need, they can receive the encouragement of the gospel and be saved," says OP Missionary to Haiti, Rev. Ben Hopp.
Thank Offering 2016 Videos
Video #1: How to Promote the Thank Offering
Video #2: Worldwide Outreach
Video #3: Christian Education
Video #4: Home Missions and Church Extension
Video #5: Foreign Missions
View All Five Videos
Click here to view all of this year's Thank Offering videos at Vimeo.com.
Share This Week's Video
We hope you enjoy this week's video and will use it to encourage your congregation to help support our missionaries by giving to the Thank Offering:
Show the video in Sunday School
Embed the video on your church website
Share the video on your church Facebook page
Thank Offering 2016 Foreign Missions from OPC Thank Offering on Vimeo.