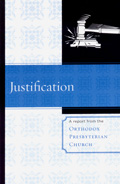 Feature
New Publications Available Online!
Andrew Moody
The Committee on Christian Education currently has ten helpful publications in print that are now available for immediate purchase online! Included in this list is the much anticipated Report on Justification that was presented to the Seventy-third (2006) General Assembly. The other nine publications are:
The Book of Church Order
The Confession of Faith and Catechisms with Proof Texts
What is the OPC?
What Is the Reformed Faith?
Why Join a Church?
Get to Know Us Better
The Biblical Qualifications for Elders and Deacons
Taking Heed to the Flock
God or Mammon?
If you have any questions about these publications, please send them to ccesec@opc.org. To place an order, or to learn more about these edifying titles, please visit the visit the publications page.