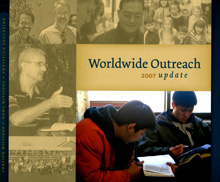 Feature
New WWO Brochure
Andrew Moody
We are happy to announce the publication of a new brochure that explains the important work of Worldwide Outreach in the Orthodox Presbyterian Church (OPC).
The Worldwide Outreach of the OPC is the overarching vehicle by which we carry out the Great Commission given to us by our Lord Jesus Christ. This is done through three main avenues: Foreign Missions, Home Missions, and Christian Education. The important work in each of these areas is overseen and carried out by a committee of the General Assembly. This attractive and informative brochure is the first in a series of four produced by the Committee on Coordination that will outline the vital labors of each of these three committees.
The brochure will be officially released at the upcoming General Assembly in Sioux Center, Iowa. Each commissioner will receive some copies to take to his home church. After June 20, copies will be available upon request from the Committee on Coordination. Requests can be sent to Jan Giandomenico by email at jan.1@opc.org or by phone at 215-830-0900.