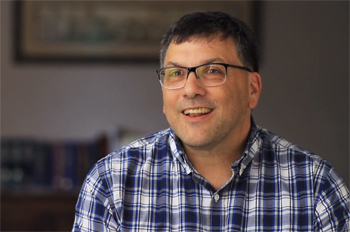 Feature
Thank Offering Video #1: Christian Education
The theme for Thank Offering 2017 is Delighting in the Lord.
The first of this year's promotional videos for the Thank Offering features Danny Olinger, General Secretary of the Committee on Christian Education (CCE).
In the video (at the bottom of this page), he explains that funds received through the Thank Offering help the CCE provide resources for the church to use to grow in the knowledge of the Lord.
These generous gifts help to support several important ministries, including:
Ministerial training
Internships
OPC.org
New Horizons
Psalter Hymnal
General Secretary, Danny Olinger:
"The people's delight in the Lord is seen in their giving and graciousness  to the church..."
Intern, Zachary Simmons
"The sacrificial, generous giving of other people in the church .... is very motivating to me, it gives me a great sense of responsibility..."
Production Editor, Jim Scott:
Learn more about the contents of the forthcoming Trinity Psalter Hymnal.
Share It!
We hope you will enjoy this promotional video and use it to encourage your congregation to delight in the Lord by giving to the work of his church through the Thank Offering:
Show it in Sunday School
Embed it on your church website
Share it on your church's Facebook page
Thank Offering 2017 Christian Education from OPC Thank Offering on Vimeo.