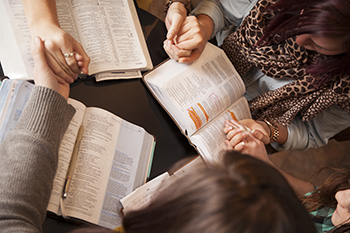 Feature
The Power of Prayer
Ken Johnson
Our whole family thanks you for your prayers for me and my family. I am so thankful to be able to share this story of the awesome power of God displayed in the dramatic answers to those prayers over the last 2 weeks.
The late R.C. Sproul wrote the following in a 2016 blog post:
Someone once asked me... "Does prayer change God's mind?" I said simply, "No." Now, if the person had asked me, "Does prayer change things?" I would have answered, "Of course!"...The mind of God does not change for God does not change. Things change, and they change according to His sovereign will, which He exercises through secondary means and secondary activities. The prayer of His people is one of the means He uses to bring things to pass in this world. So if you ask me whether prayer changes things, I answer with an unhesitating "Yes!"
The Johnson family experienced this in real time on May 4 and the days following as we saw how He used your prayers and the prayers of people all around the country to change my life. Here is the condensed version of what happened.
At about 2:45 pm on Friday May 4, I had just finished a phone call with my daughter Laura who was about to board a plane in Florida with her husband Alex. I stood up, took 5 steps and collapsed alone and unable to move in an outbuilding about 300 feet from our house. After a few minutes, I regained enough control and strength to walk to the house and then collapsed again. I now knew for certain that I was having a stroke and tried to use my phone to call for help, but my hands would not work. Finally, I was able to stab at the redial, hit Laura's number and after several failed attempts finally connected with her. It was then I discovered I could not speak. After what seemed like a very long time, I finally was able to say "I am paralyzed."
Since all my daughters are very competent women of action, things started happening immediately. While Laura stayed on the phone with me and while Alex was coordinating a 911 ambulance response with my wife Marie, Laura was simultaneously texting two of her best friends and prayer warriors (Rebekah in North Carolina and Kristin in Massachusetts) It was now about 3:15 and word had reached daughters Emma and Erica and Pastor Hamilton. As word continued spreading to our church, Emma's church and Laura's church, a steady stream of prayers was now rising heavenward.
"...pray for one another, that you may be healed. The prayer of a righteous person has great power as it is working." James 5:16
The ambulance arrived about 3:30 followed closely by a caravan of vehicles carrying Marie, Emma and Pastor Hamilton. Erica was on her way to meet us at the hospital and I was improving rapidly. Speech was returning and by the time I got to the hospital, the only thing not functioning was my right arm. The power of prayer was at work.
After 4 days of tests and treatment with a clot-busting drug, it was determined that I had experienced a significant stroke affecting both sides of my brain and that I was spared catastrophic damage because the clot had been broken up into small harmless pieces. It was exactly what you would expect to happen when the clot-busting drug is administered. But in my case, it happened well before the drug was given to me. The time line defined by when my condition began improving indicated to the neurologist that the clot started to break apart not when the drug was given, but much earlier about the time the ambulance was arriving. To me, it was clear that it meant that the clot started breaking apart when the prayers began.
On Tuesday morning when I was being discharged, the neurologist told me that after the kind of stroke I had experienced, she did not know why I was able to go home with virtually full functionality. She simply said "you are blessed." Because the clot broke apart so soon after the stroke happened, little or no lasting damage had occurred.
I found out later that the neurologist is a Christian. So, in addition to everything else He did in these days, the Lord also sent one of His own to care for me. "Great is thy faithfulness!"
Words cannot express the depth of our thankfulness to you for your prayers and your loving care and support of our family. But, that is not the primary reason I am writing this letter to you.
I wanted to have the opportunity to tell you of the great, loving and merciful works of our mighty Lord and Savior that He is doing right here in our lives right now! Praise the Lord!
I will ponder all your work, and meditate on your mighty deeds. Your way, O God, is holy. What god is great like our God? You are the God who works wonders; you have made known your might among the peoples. Psalm 77:12-14
Ken Johnson serves as an Elder at Pilgrim OPC in Bangor, Maine.