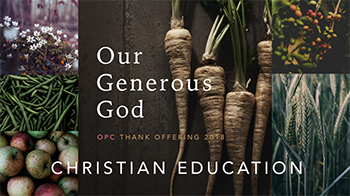 Feature
Thank Offering: Christian Education
We are excited to share the first Thank Offering Video for 2018!
Your giving to WorldWide Outreach will assist the Committee on Christian Education as they provide resources for the church to grow in the knowledge of the Lord, including things like: Ministerial Training, Internships, OPC.org, New Horizons, and Psalter Hymnal.
Please share this video generously by showing it in Sunday School, posting it on your church website, or sharing it via social media.
Copyright © 2020, The Orthodox Presbyterian Church. All Rights Reserved.