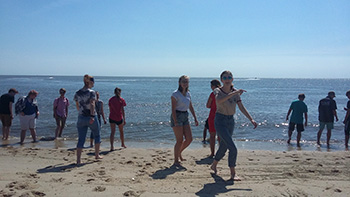 Feature
This Way to the Boardwalk Chapel!
Janet Birkmann
There are many ways to serve in a short-term missions capacity at the OPC's Boardwalk Chapel in Wildwood, NJ, this summer: As House Parents...as a Ministry Team for a week....as a member of the Volunteer Staff on the music or evangelism or domestic teams...sharing your maintenance skills for a weekend. Check it out - they need you!
House Parents Needed:
Ministry Teams: GREAT OPPORTUNITY! Bring your church group to serve for a week:
Volunteer Staff: Evangelism Team:
Volunteer Staff: Domestic Team:
Volunteer Staff: Music Team:
Work Teams/Youth Groups:
CONTACT:
Elizabeth Horst, Admin Assistant at the Boardwalk Chapel
Visit www.opcstm.org to find more opportunities for short-term service in the OPC!
PHOTO: Members of a Ministry Team from West-Mont Christian Academy, Pottstown, PA, who served at the Boardwalk Chapel in 2018.