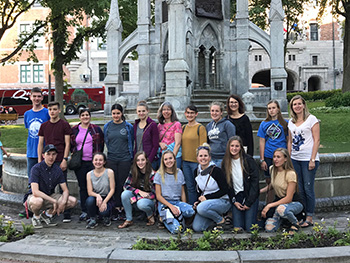 Feature
Summer STMs are Well Underway!
Janet Birkmann
July 6, 2019
Summer short-term missions are well underway!
A week of ministry in Puerto Rico, two Ministry Team weeks at the Boardwalk Chapel in Wildwood, NJ, and three weeks of English for Kids Bible Camp in Quebec are already completed!
The week of July 8th, Menominee Missions begins in Zoar, WI; mission trips in the Czech Republic start up; a short-term missionary arrives in Uganda; English for Kids Bible Camps wrap up; and the next Boardwalk Chapel Ministry Team arrives!
RESOURCES:
PHOTO: This team from OPC churches in Pennsylvania, New York, and Virginia led Week One of the "English for Kids Bible Camps" in Quebec City, Quebec, June 24-28, 2019.
Janet Birkmann
Communications Coordinator
OPC Short-Term Missions and Disaster Response
Janet.Birkmann@opc.org
Phone: (215) 935-1007
Facebook: OPC Short-Term Missions
Website: OPCSTM.org