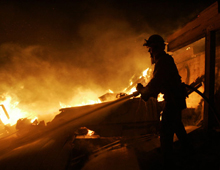 Feature
Wildfires Threaten Churches
John K. Novinger
We urge each congregation to pray earnestly for all of our brethren whose lives are being impacted by this week's southern California wildfires. We encourage everyone who sees this communication to pray:
For all those who have suffered loss of property and loved ones
For the firefighters who diligently are trying to save both life and property
For law enforcement officials who are policing areas affected by the fires
For the testimony of all who suffer loss
For the loved ones of those firefighters and law enforcement officials, who wait anxiously for the return of their loved ones
For the response of God's people to care for our brothers and sisters in distress
That God in his good providence will calm the winds and give favorable weather conditions in the areas ravaged by the fires
OPC
Baja—Missionary the Rev. David Crum
Time for me to check in, just so that you know we are OK, and so far, our house is not in jeopardy. The Mexican side of the Harris fire, however, has reached the mountain immediately east of our home. Our essentials are packed and ready for quick flight. There is no borderline to speak of, so if necessary, we should be able to reach San Diego relatively easily. I am trying to contact as many from our church as possible.
Bonita—Bonita OPC, the Rev. Steve Parker
Last evening the Parkers were notified to prepare for evacuation, however, because the wind has now shifted and is blowing toward the east, they are "sitting tight." All of the families in the congregation are account for. The Rev. Bruce Brawdy and his wife Ruth, who live in Lakeside, are OK as of this afternoon.
Big Bear City—Big Bear Valley OPC, the Rev. Alan Pontier
While the Big Bear Mission is not threatened right now, we have a family that is in the process of joining the church that lives in Running Springs. I have been trying to call them, but have gotten no answer. I would imagine that they have had to evacuate.
Chula Vista—Bayview OPC, the Rev. Roger Wagner
Please uphold the Jerry Johnson family in your prayers. Their home has burned to the ground and they also have lost their livestock.
Also, three families, including the Wagners, their daughter, son-in-law (and children) were under "voluntary evacuation" last evening. They decided to pack cars but not leave until the evacuation orders become mandatory.
Families on the east side of San Diego were to prepare for voluntary evacuation yesterday. They have not left the area, and with the following news will probably not evacuate.
A report came moments ago from the chief of the Chula Vista Fire Department, that the threat to the southern end along the border to Chula Vista, Bonita, etc., has been extinguished! Helicopters making two-minute pickups from the Otay Lakes reservoir and the Sweetwater reservoirs to the fire line did a wonderful job of extinguishing the threat to Chula Vista and Bonita. The fire chief said that he would approve residents returning to their homes around 3 PM and he didn't think a sudden wind change would pose any danger to them as they were discussing could happen further north in some of the canyon fires there.
The first (from Colorado) C130s Duncan Hunter and a general of the Coast Guard have arranged for should be landing at Point Mugo around 2:30 PM. The 130 will load up with retardant and start operations as directed to the most needy areas of the fire. Two or three more C130s will be coming from—I believe—North Carolina, Wyoming, and another northwestern state and should be arriving later on in the day/night. Hopefully, Southern California, equipped with these C130s, will not run out of retardant and really do a number on the fire.
J. J. Lyons, a member of Bayview and my son-in-law, has been on the fire lines since early yesterday. He has been in Rancho Bernardo, Poway, Del Mar, and is now heading for Ranch Santa Fe.
Escondido—Escondido OPC, the Rev. Zach Keele
Everyone is accounted for. At least one family that lives in the Rancho Bernardo area does not know whether they have lost their home. Dr. Steven Baugh and his family were evacuated during the night and are safe. The fire has flared up and the Baughs' home may now threatened.
Because of flare-up Valley Center, if the fire moves to the west, the north end of Escondido will be threatened. This is the area where most of the Westminster Seminary California faculty lives.
Fallbrook—Harvest OPC in Vista, the Rev. Mark Schroeder
Pastor Schroeder and family are staying at a deacon's home. Their daughter Lindsay is at the Sanchez home in Whittier. All of the families are safe and accounted for.
The Schroeder home is very near Live Oak Park and Reche-Gird Road intersection, up Via Vista Road in Fallbrook. We have conflicting reports that the park was destroyed, was not touched, was on fire, homes were destroyed, homes at Via Vista / Myrtle were safe at 9:20 PM. Park was a total loss at 11 PM, but heard that earlier and it wasn't true then!
The following was posted at approximately 3:30 PM.
Rice Canyon fire without much new damage to homes and businesses. The blaze has consumed about 7,000 acres in eastern Fallbrook and western Rainbow, according to the latest estimate from the California Department of Forestry and Fire Protection, "The fire is really not spreading significantly at this point," said David Shew, a Cal Fire spokesman. The hardest-hit stretch was along Reche Road, where the Valley Oaks Mobile Home Park was largely destroyed. The fire also charred large swaths of land between east Mission Road and Ranger Road. Avocado groves and plant nurseries burned, but many homes in the area appeared to escape direct damage from the fire. On the east side of Interstate 15, crews stopped the blaze from crossing Highway 76 and entering a large housing development, Shew said. The fire has destroyed about 200 homes, down from an earlier estimate of as much as 500 houses. Despite the progress, fire officials are asking Fallbrook's 45,000 residents to stay evacuated for at least one more day.
Comments from some of the Harvest members:
Troy wrote (23 Oct 2007 15:04): So far as I know, the coastal areas from Encinitas to Carlsbad are [under] voluntary evacuations. My brother's house (owned by the school) in San Pasqual burned down. He and his wife are safe in Fullerton. San Pasqual Academy is apparently OK.
Daphne, Troy, and others write that they are OK and maybe able to help with errands
Carol Horton (Oceanside, near College/Mission) and Angie Ericson (Carlsbad, near Tamarack) and Ella Linden (Vista/Shadowridge) have room(s) and/or sleeping bags
Debi Parker says they have taken in animals, including horses, and a family. They had room for more and an R/V parking space.
The Enases tried to check on other Fallbrook homes but [it] was horrendous. They made it to Becky's last night about 10 PM. "Praise the Lord that we are all doing well and grateful to him for his continued blessings."
The Chiones, who had been at the Jennings', reported between 1-2 PM that they were evacuating.
Lake Arrowhead/Running Springs
As reported yesterday, a family from Faith OPC in Long Beach owns two homes in Lake Arrowhead. We have received word from the son that it appears that at this point the fire has not burned their homes. Currently, Running Springs is under siege with many, including one OPC family from Big Bear, affected.
Temecula—Providence OPC, the Rev. Jesse Pirschel
At least four families in the Temecula mission work (Dave Bulthuis, Andy Taylor, Kenny Taylor and Mark Smith) have had to evacuate their homes in Ramona, Escondido and Fallbrook. So far as we know, the homes are still intact, but the families are not able to return as of noon Tuesday. A young man in the church, Solomon Thorn, is a new firefighter and may be called into action soon.
PCA
Alpine—Grace Fellowship PCA, the Rev. George Miladin
Pastor Miladin reports that things have not changed during the past 24 hour period and that the people who are part of that mission work are all OK and have been accounted for.
Escondido—New Life PCA, the Rev. Ted Hamilton
This morning that at least one New Life Escondido family lost their home, and the Hamiltons' neighborhood received a mandatory evacuation order. Others may well have lost property, although apparently all persons are physically safe. The church appears not to have suffered any damage.
Fallbrook—Grace PCA, the Rev. Ken Han
Although reliable information has been frustratingly few, we know that all of Fallbrook was evacuated yesterday. Our deacons have been able to ascertain that most of our church families were evacuated safely. There are, however, some families we cannot get in touch with.
Please pray for:
Safety of our church families, and also the Fallbrook community at large
Last we heard the fire has burned over 6000 acres and over 500 houses destroyed. It may be we no longer have a place to worship as well. Pray for peace and guidance from the Lord.
For God to be glorified in this, that we be given a fruitful time of ministry.
We'll post all further information on our church websites, gracefallbrook.org and gracefallbrook.blogspot.com.
North Hills—Valley Presbyterian Church, the Rev. Ron Svendsen and the Rev. Geoff Shaw
Three families have been evacuated from their homes. Everyone is accounted for.
La Mesa—New Life PCA, the Rev. Brian Tallman
Only one family in Lakeside has not been heard from. The church is an evacuation center. They have room for "a lot of people," showers, etc.
Poway—North City PCA, the Rev. David Nutting and the Rev. Nate Hitchcock
Yesterday on the way to the airport we learned that we were under mandatory evacuation orders for my home in Rancho Penasquitos. We changed our flight from the Midwest and were able to land in Orange County where we are now staying with relatives until law enforcement opens our neighborhood. Nate Hitchcock is still in safe in Poway, as no order came for his family to leave. While I was traveling yesterday, Nate and others at North City were very busy making contact with our members, for which I am very grateful. It would appear from what I know that all our members are safely away. A large majority of our membership were evacuated from their homes in Rancho Bernardo, Poway, 4S Ranch, Rancho Penasquitos, Scripps Ranch and other areas. As you may know, a large majority of our congregation lives in Rancho Bernardo, but so far we have no word that any homes have been lost. There are several members who live in hard-hit areas, but so far we do not believe their homes have been affected. Thus far, our church facility is out of the line of the fires as well. We will know the needs more in a few days when we are allowed back into our neighborhoods.
RPCNA
San Diego, the Rev. Mark England
It's after midnight for me now. I just got in from helping a friend with a non-fire related move. One of our families voluntarily evacuated themselves from the Crest area of El Cajon. Since then the evacuation has become mandatory. They went through this in 2003. God spared their home then and the neighboring ones, while the ones across the street were destroyed. Hopefully their property will be spared again. Everyone else is OK so far. The evacuations are to the south and north of where the church members live. Needless to say, it can all change quickly. Out my back door, I can see the glow of fires in the east!
URC
Escondido—Escondido URC, the Rev. Phil Vos and the Rev. Stephen Donovan
Many families have been evacuated. One family that lives in the Rancho Bernardo area has lost their home.
In addition, please see my notation on Escondido under OPC, as the Escondido URC will be impacted if the fire moves in from the Valley Center area.
Santee—Christ URC, the Rev. Michael Brown
Please keep the members of Christ URC (Santee) in your prayers, as many have been evacuated from their homes. We have families that are affected by both the Witch and Harris fires.
Westminster Seminary California
The following regarding Westminster Seminary was sent this morning. As of 1500 hours we understand that power has been turned on. Praise the Lord that it appears that Westminster Seminary California has been spared for now!
Pastor Zach Keele was able to drive around the area, and except for some singed trees and a roof across the street from the seminary, it appears that everything is OK. He was also able to get down to the area where the Strimples live, and while he could not get down their street, it appears their house is OK (it is in the general area where there has been significant fire damage). He was not able to get into the area where the Van Drunens live.
Dr. Baugh and his wife had to evacuate their home in Valley Center and they went to stay with Dr. Scott Clark and his family (both families have apparently had to relocate to some other location since then).
Dr. Dennis Johnson said that New Life PCA in Escondido is OK (it is just outside the mandatory evacuation area).
Please continue to pray for all our brothers and sisters in the San Diego area. We have tried to cover all of the churches known to be in the path of the fires. If we have overlooked some, please let us know, so that we can correct it.
In Christ,
John K. Novinger, chairman
Diaconal Committee
Presbytery of Southern California
The Orthodox Presbyterian Church
October 23, 2007, 1600 hours
P.S. Reports have begun to come in indicating that a number of families in the OPC and sister denominations lost everything. Please keep praying. Those wishing to make tax-deductible contributions to the Committee on Diaconal Ministries may send them to:
Committee on Diaconal Ministries
Orthodox Presbyterian Church
697 N. Easton Road, Bldg. E, Box P
Willow Grove, PA 19090-0920