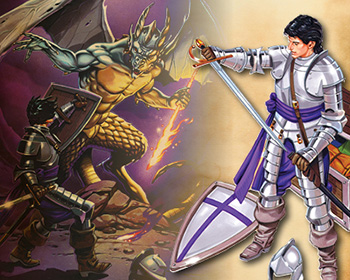 Feature
GCP Helping Families Teach Kids During Coronavirus
There sure are a lot of unknowns as we navigate this season of ministry:
How are we doing church as things keep changing?
How will we continue to do children's, youth, and adult ministry?
How long is this going to last?
Yes, those are our questions, but we thank the Lord with you for what is known about our great and sovereign God, even in the midst of the unknowns around us! Great Commission Publications is here to help as you continue ministering to the children and families of your church with the truths of God's Word. How?
One way in which we are helping families is with John Bunyan's Pilgrim's Progress. This classic work of literature has been adapted for children ages 6-12. Second only to the Bible in copies sold in English, this story shares the life-changing gospel by following Christian on his way from the City of Destruction to the Celestial City. On his journey he will meet friends and foes, and liars and truth-tellers. And your kids and families can come along—learning how Jesus helps them on the way!
Children discover many important truths, including:
a deeper understanding of Christ and the gospel
the necessity of God's Word, the Holy Spirit, and other believers for teaching, instruction, encouragement, and support
the true definition of a Christian
a picture of the Christian life—a pilgrim's journey with ups and downs, distractions, difficulties, and even feelings of being cut off from God as a believer presses toward the grand end
insight into the heart and character of Christians and those who only claim to know Christ
HUGE NEW OFFER ON PILGRIM'S PROGRESS ADVENTURE
Get the Deluxe Classroom Kit ($85) for your kidmin leader or parent(s) who want to homeschool or host backyard Bible clubs. It has everything you need to lead the adventure!
Invite your families and children ages 6–12 to pack their bags and join Christian on his journey.
Get one Student Pack per child. This $45 value is only $14.99. It includes:

Fully illustrated 13-chapter storybook with glossary and map
13 activity papers to reinforce lesson aims and relive the story PLUS includes 13 additional activity papers for the older kids as well
Their own map of the journey ... PLUS
FREE digital download of the Dramatic Reading
FREE digital download of Songs for the Journey
FREE Parent page (PDF) for use at home

Schedule a Pilgrim's Progress Pick-up Party to give each family their adventure kit!
Plan an end-of-summer Pilgrim's Progress event, where each family can showcase their own journey and the church community can be together.
Offer only good by phone at 800-695-3387 until August 31, 2020.
FREE WEEKLY VIDEO LESSONS
As soon as our churches were unable to meet in person, we began providing FREE weekly lessons to help you continue to minister to your families with young children. If you would like to get access to these free lessons, email ba.snider@gcp.org.
What's included?
Video teaching of the Bible story families can play anytime
Parent page (PDF) explaining the lesson focus and Scripture memory, giving parents good Bible background to go further with their kids 
Coloring sheet and activities (PDF) that families can do together
Visit our website at www.gcp.org or call with any questions to 800-695-3387.