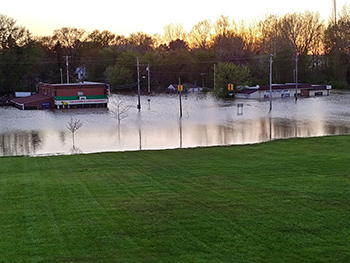 Feature
Midland, Michigan Flooding: OPC Disaster Response Update
On Monday, May 18, 2020, residents of Midland, Michigan were told to leave their homes in search of higher ground as rainwater threatened to swell the dams on the Tittabawassee River. By Tuesday, the Edenville and Sanford dams had failed, and water rushed into low-lying areas, destroying homes, businesses, and livelihoods.
The Orthodox Presbyterian Church has structures in place to help the local church and members when disasters strike. The process begins with the local church leadership assessing the damage and needs of their congregation.If additional help is needed, the local church then reaches out to the regional church, the presbytery. The presbytery then sends representatives to further assess the needs. The final step in aiding the local church is the OPC's Committee on Diaconal Ministries' Disaster Response office. In the case of Midland, MI, the devastation was significant and volunteers from outside the affected area are needed.
Christ Covenant OPC in Midland, Michigan has identified two families significantly affected by the floods. Pastor Dave Sarafolean, reports, "I visited the Kennedys at their home.  They are living on the main floor and have had help cleaning out the walkout basement….Tom [Kennedy]…has decided to hire a restoration company to remove damaged items, open up walls, dry and disinfect….It is unclear what sort of help they will need beyond that."
The Moots family's situation was more critical, Pastor Sarafolean notes, "Basically they have lost everything. They are sorting through their possession, deciding what is trash and what can be salvaged….A restoration company is coming out to assess the situation and give them a bid….If the restoration company will allow volunteers to gut the house they will take all the help they can get…The home was not a total loss and could probably be rebuilt."
Despite the overwhelming devastation and the long road of rebuilding ahead, Pastor Sarafolean is hopeful for the outreach opportunities this affords them as a church to their community. There are many such stories of loss in the wake of these floods yet to be identified. As the OPC goes in to help and serve these church families, there may be opportunities to love and serve many others who may not have a community to help them when significant needs like this arise. May the Lord use this trial as an opportunity for His people to put hands and feet to the good news of the Gospel. We serve because Jesus served us!
"The LORD sits enthroned over the flood; the LORD sits enthroned as king forever. May the LORD give strength to his people! May the LORD bless his people with peace!" – Psalm 29:10-11
If you would like to help the families in Midland, please register as an OPC volunteer by going to our website: www.opcdisasterresponse.org.