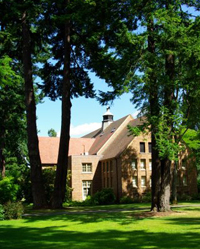 Feature
2008 GA Report
James J. Cassidy
The Seventy-fifth General Assembly is meeting at Pacific Lutheran University, Tacoma, Washington, beginning at 7:00 p.m., Wednesday July 9, 2008, with a terminus no later than noon, Wednesday July 16, 2008. This running daily report is being written by the Rev. James J. Cassidy, pastor of Calvary Orthodox Presbyterian Church, Ringoes, New Jersey. To go to the report, click here.
Please click here to view pictures of the assembly at work, graciously provided by pastor Stephen Parker. Check back daily for updates.
The formal group photo of the Seventy-fifth GA is available here: small (228K), large (6MB).