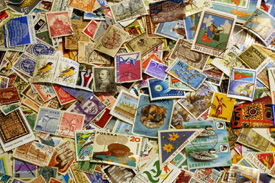 Feature
Stamps for Missions
Linda Posthuma
For decades members and friends of the OPC have saved used postage stamps from the U.S. and around the world, helping fund numerous special projects for our mission fields. This year, stamp project proceeds will fund translation of Reformed literature into the Tigrinya language for Eritrea. Would you like to help? Following are some instructions to help us do the job more efficiently.
What to Collect
All foreign stamps, on or off paper (separated)
U.S. commemoratives and large-size stamps
All air mail stamps and special rate stamps ($1.00, $3.20, $5.00, $13.65, etc.)
Small-size U.S. stamps, if more than 40 cents in value
Self-adhesive stamps (trimmed), if more than 40 cents in value
Picture postcards, new or used
Instructions
Remove all U.S. stamps from paper if possible (saves us labor and brings a better price)
Do not try to remove stamps from red, green, or other dark-colored paper (the color runs)
Soak in cool water until loose - do not pull off
Place face down on sheet of newspaper, dry completely
Place in old phone book or catalog for several days to flatten
If leaving U.S. stamps on paper, trim (tearing can damage the stamp) 3/8" border (no larger) around all sides (this still brings a good price: on paper brings $4.50 per pound; off paper brings $18.00 per pound)
Save foreign stamps on paper, trimmed with 1/8" - 3/8" border around all sides"they bring approximately four times more than foreign stamps off paper (we can use any off paper as well)
Sort into old envelopes in the following categories
U.S. stamps: (1) U.S. commemoratives off paper, (2) U.S. commemoratives on paper, (3) all other U.S. stamps off paper, (4) all other U.S. stamps on paper
Foreign stamps: (1) on paper, with 1/8" - 3/8" border around all sides, (2) off paper
Do not save
Christmas stamps
Small-size U.S. stamps, if 40 cents or less in value
Creased, torn, or heavily canceled stamps
See examples on this page
Send Stamps To
Committee on Foreign Missions
Orthodox Presbyterian Church
607 N. Easton Rd., Bldg. E
Willow Grove, PA 19090-2539
Send by third class mail or parcel post (using stamps not postal meter). Do not send by first class. Ship heavy lots by UPS or via your pastor or someone from your area who is traveling to the OPC offices.
To see examples both of stamps that are needed and of stamps that are not needed, click here.
Thank you for helping to make this project a success.