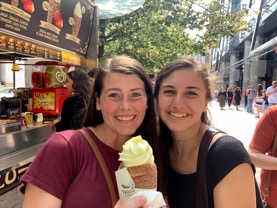 Short-Term Missions
Summer Reports Galore!
Janet Birkmann
Photos and testimonials from this summer's short-term missionaries keep rolling in! They have been featured on Facebook and in the S.T.O.R.M. Report newsletter, and archived at the OPC Short-Term Missions Website where they provide information and inspiration for anyone interested in getting involved in short-term missions!
Here are some excerpts from today's S.T.O.R.M. Report newsletter:
TEAM PRAHA: by Kelsey Veldheer, Branch of Hope OPC, Torrance, CA
"The team and I are so blessed to have made so many new friends, and we are all so thankful that God gave us opportunities to discuss our love for Christ. Before the trip, I was preparing myself to go over there and be an encouragement to them, but what I wasn't expecting was to come home full of encouragement I received from them..."
QUEBEC: English for Kids Bible Camp: by Linda Taylor, New Life OPC, Williamsport, PA, who prepared meals and snacks for 15-60 people for a week.
"Are you like me, reluctant to reach out? Feel you are too old? Is there some other reason that restrains you? I urge you to think creatively and see how you can serve using your God-given talents. Are you an artist? Do you cook? Are you musical? Do you sew? All short-term mission programs, not just English for Kids, need 'behind the scenes' helpers..."
UGANDA: by Nurse Practitioner Jonathan Walker, Covenant Reformed OPC, Mt. Airy, NC, who served at the Akisyon a Yesu Presbyterian Clinic.
"Can you imagine walking miles with malaria? Also, having no food for the journey and wearing worn down flip-flops? It is amazing how strong the people are, that they are able to travel great distances just to receive medical care. It is a sobering feeling to know someone traveled so far to seek your help..."
PHOTO: Kelsey Veldheer and Haven Kempen (Team Praha 2019)
S.T.O.R.M. Report:
Click HERE for the complete issue of today's S.T.O.R.M. Report.
Short-Term Missions Website:
Visit OPCSTM.org to find photos and testimonials from all those who have served as short-term missionaries in 2019!
Copyright © 2019, The Orthodox Presbyterian Church. All Rights Reserved.