Reviews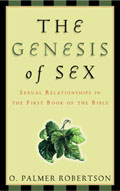 The Genesis of Sex: Sexual Relationships in the First Book of the Bible
O. Palmer Robertson
Reviewed by: G. I. Williamson
Date posted: 06/03/2007
The Genesis of Sex: Sexual Relationships in the First Book of the Bible, by O. Palmer Robertson. Published by P&R, 2002. Paperback, 172 pages, list price $11.99. Reviewed by G. I. Williamson.
I am excited about this book. I started reading it, not knowing what to expect, but soon found it so riveting that I could not put it down. Here is a fine exposition focusing entirely on narrative material found in Genesis. The study is always based on the concrete, rather than the abstract. Yet it also brings in the light of the rest of the Bible in such a way as to convey, in a most powerful sense, the unity of Scripture. It clearly shows the reader how everything the Bible says about sex is already there, in essence, in the first book of the Bible.
Dr. Robertson writes with exceptional skill, with no wasted words and no confusing passages to perplex the ordinary reader. The endnotes demonstrate his thorough knowledge of scholarly work on the text and the historical background of Genesis. But even these are succinct and clear. Here are just some of the subjects covered in this remarkable book: the prearranged marriage. the marriage of believer to unbeliever, divorce, the second marriage, barrenness, adultery, lust, rape, incest, homosexuality, the unmarried, loneliness, and the widowed. And there is more.
This study will be very helpful to any pastor preaching through the book of Genesis. And it will be just as useful for personal or group Bible study. I would also recommend it as an excellent gift for those who are contemplating marriage. In a word, this book is small in size, but big in content. I very highly recommend it.