Reviews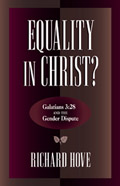 Equality in Christ? Galatians 3:28 and the Gender Dispute
Richard W. Hove
Reviewed by: Mary Yepez
Date posted: 04/29/2007
Equality in Christ? Galatians 3:28 and the Gender Dispute, by Richard W. Hove. Published by Crossway Books, 1999. Paperback, 160 pages, list price $18.00. Reviewed by Mary Yepez, member of Franklin Square (N.Y.) OPC.
This book by Richard Hove was originally intended as a masters thesis. It puts forth several interesting and well-examined arguments concerning Galatians 3:28, which reads as follows: "There is neither Jew nor Greek, slave nor free, male nor female, for you are all one in Christ Jesus. "
This book argues that Galatians 3:28 does not promote a theology of androgyny in which gender roles are diminished. Instead, the focus of Galatians 3:28 is on the spiritual heritage of both genders who share equally in God's plan for salvation. Although the genders receive grace equally and freely, there are still differences between them which Galatians 3:28 does not address.
The value of this book is that Hove has examined the issues from a lexical, syntactical, and contextual framework, taking great pains to exegete details from the passage. At no time does the author resort to reductionist arguments, nor does he pound the reader with his position. His approach is scholarly (well-researched), yet readable, and his thoroughness helps the reader think through the issues. Hove discusses many arguments with which he disagrees in a respectful and objective manner. As a result, the reader can learn many aspects of the prevailing views and research on this passage. I appreciate also his desire to be conciliatory with those who oppose his views. He cautions orthodox interpreters of Galatians 3:28 not to distort the truth or misrepresent opposing viewpoints.
Hove has sufficiently reworked his thesis to make it engaging for lay people, and I highly recommend this text for the abundance of information it provides and the thinking it provokes.