Reviews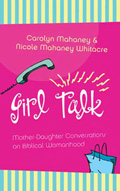 Girl Talk
Carolyn Mahaney and Nicole Mahaney Whitacre
Reviewed by: Patricia Clawson
Date posted: 04/15/2007
Girl Talk, by Carolyn Mahaney and Nicole Mahaney Whitacre. Published by Crossway Books, 2005. Paperback, 223 pages, list price $12.99. Reviewed by Patricia Clawson, a member of Calvary OPC in Glenside, Pa.
If there's a brick wall between a mother and a daughter, Girl Talk, by Carolyn Mahaney and Nicole Mahaney Whitacre, offers help. As the mother of three girls, I found the book a valuable aid. Ideally, mothers and daughters should read and discuss the book in tandem. The authors, a mother-daughter team, seek to help moms build strong relationships with their daughters and pass on what they call "biblical womanhood" to the next generation.
Biblical womanhood, according to the authors, is God's perfect design for women as seen in Titus 2:3-5, Proverbs 31, and other passages. To help pass on those godly attributes to daughters, the book first considers the biblical basis for the mother-daughter relationship and then discusses how young women learn to live out biblical womanhood. The sometimes obscure "language of biblical womanhood" is a drawback.
The weakest part of Girl Talk is the first section, where the authors state that it's God command for mothers to be the foremost influence in their daughters' lives (p. 42). Very little time is spent on the role of the church.
On the basis of Proverbs 1:8, the authors encourage mothers to be intimately involved with their children, guided by Scripture (pp. 42-44). From Deuteronomy 6:4-9 they derive five principles of girl talk: communication starts with the mom, happens all the time, is centered on God's Word, is honest and open, and is possible because of God's grace.
Conflicts are usually prompted by coveting (p. 59) and broken down with humility (p. 72). The authors also emphasize the role of tender love in discipline (p. 76) and put a high priority on women in the home (p. 144). The scriptural characteristics of a potential spouse are also spelled out (pp. 166-67).
Highly valuable are the practical aids they offer to develop strong communication. Questions at the end of chapters are aimed at knocking down communication barriers. Appendixes present questions to stimulate conversation, a checklist to help young women dress appropriately, ideas on making memories with your daughters, and, if necessary, a how-to chapter on leading your daughter to the Lord.
Lest men feel left out, fathers may read a chapter on their role with their daughters, written by Carolyn's husband, C. J. Mahaney, leader of Sovereign Grace Ministries.