Reviews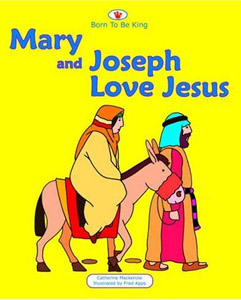 The Born to Be King series:
Catherine MacKenzie
Reviewed by: Diane Olinger
Date posted: 04/08/2007
The Born to Be King series: Mary and Joseph Love Jesus, The Shepherds Find Jesus, Simeon and Anna See Jesus, and The Wise Men Help Jesus, by Catherine MacKenzie. Published by Christian Focus Publications, 2006. Board books, 14 pages each, list price $3.99 each. Reviewed by Diane Olinger, a member of Calvary OPC in Glenside, Pa.
These brightly colored picture books tell the story of Christ's advent, beginning with the angel's visit to Mary and ending with the flight to Egypt. They are good read-aloud books for preschoolers and could be read independently by some five- and six-year-olds.
What makes them different from other Christmas books for children? First, there are no pictures of Jesus, even in the manger (though we see Mary, Joseph, and the animals in the stable). Second, the books not only get the biblical facts straight, but also are theologically sound and consistent. Each book asks the young reader to consider what earthly kings are like (for example, "If you were a king you'd sleep in a palace and wear wonderful clothes"), and then asserts that "Jesus is a different King. He is a better King. He is the best King" (Mary and Joseph Love Jesus, pp. 1-2). Each book ends with a brief application emphasizing that Jesus came to save us from sin. Jesus "came to die on a cross and not to fight with a sword. If you love him he will give you a life that will never end" (Simeon and Anna See Jesus, pp. 12-13).
I will read these books to my children and buy them as gifts for others.