Reviews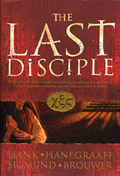 The Last Disciple / The Last Sacrifice
Hank Hanegraaff and Sigmund Brower
Reviewed by: Brian D. Nolder
Date posted: 02/04/2007
The Last Disciple, by Hank Hanegraaff and Sigmund Brouwer. Published by Tyndale House, 2004. Hardback, 416 pages, list price $19.99; paperback, $13.99. The Last Sacrifice, by Hanegraaff and Brouwer. Published by Tyndale, 2005. Hardback, 384 pages, list price $19.99; paperback, $13.99. Reviewed by Brian D. Nolder, an OP pastor.
The ongoing popularity of the Left Behind series continues to perplex and frustrate Reformed Christians. Although selling millions of copies, these books are based on a flawed reading of Scripture known as dispensationalism. It interprets prophecy in a literalistic fashion, postpones the kingdom of Christ until after the Second Coming, and drives a wedge between Israel and the church of the New Testament.
Reformed Christians may now have an alternative to the Left Behind series: the The Last Disciple, series - historical fiction based on a different view of Revelation. Rather than picturing a seven-year period right before Christ's return, The Last Disciple, boldly proclaims that it begins in A.D. 65,"10 months after the beginning of the Tribulation." While it sounds radical today (even in some Reformed circles) to think of ' 'the great tribulation" as something that already happened, John identifies himself as "your brother and partner in the tribulation" (Rev. 1:9) - it was happening when he wrote. Left Behind is based on a futurist reading of Revelation, understanding chapters 6-19 as referring to events that are still future. But Last Disciple is based on a preterist reading of the book: many things that for John would "soon take place" (Rev. 1:1; 22:6) are now in our past. The beast of Revelation 13 is not some future antichrist, but Nero and the Roman Empire he ruled. (When one adds up the numeric value of Neron Kaiser in Hebrew, one gets the infamous "number of the beast," 666.)
The series takes place in the Roman Empire in A.D. 65-70, during Nero's persecution of the church, the Jewish rebellion against Rome, and the eventual destruction of Jerusalem and the temple (Matt. 24:1-35). The series revolves around Gallus Sergius Vitas, a Roman hero of the wars in Britannia, but now a reluctant member of Nero's high court. The story begins in Rome, but we are taken throughout the Empire as the events of Daniel 9, Matthew 24, and Revelation 2-19 unfold.
Like much of today's Christian fiction, The Last Disciple, and The Last Sacrifice, are not terribly deep. But the characters from diverse backgrounds (Gentile, Jewish, and Christian) and the exciting, fast-paced narrative are interesting.
Even if you are not persuaded by the preterist view of Revelation, you can still read these books to learn a lot about the suffering of the early church and the fulfillment of Christ's prophecy of the destruction of the temple. Read the first chapter at www.decipherthecode.com. (A word of caution for parents: while there is nothing explicit in the first two volumes, the series is set in pagan Rome, where immorality was rampant, and the authors do not ignore this. Read the books yourself to determine whether they are appropriate for your teen or preteen.)