Reviews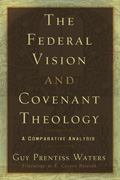 The Federal Vision and Covenant Theology: A Comparative Analysis
Guy Prentiss Waters
Reviewed by: L. Anthony Curto
Date posted: 09/16/2007
The Federal Vision and Covenant Theology: A Comparative Analysis, by Guy Prentiss Waters. Published by P&R Publishing, 2006. Paperback, 397 pages, list price $20.99. Reviewed by Prof. L. Anthony Curto of Greenville Seminary.
"The Federal Vision (FV) presents to the Reformed church at the dawn of the 21st century possibly her greatest challenge and opportunity." This is how Guy Prentiss Waters, assistant professor of biblical studies at Belhaven College, begins the preface of The Federal Vision and Covenant Theology: A Comparative Analysis. This is the second publication by Dr. Waters dealing with theological issues facing the Reformed church today. His first work, Justification and the New Perspectives on Paul (P&R, 2005), looks at Pauline scholarship, especially as those studies relate to the Reformation's understanding of the doctrine of justification.
In this second work, he focuses on a relatively new movement called the Federal Vision. In chapter 1, Waters introduces us to this movement. He explains why it is crucial that we have a clear understanding of what the Federal Vision proponents teach. Their teachings are both far-reaching, crossing many Reformed denominational lines, and substantive, touching many key doctrines. This is important to those who hold to the Westminster standards, since the proponents of Federal Vision theology profess to do so, too.
As the title suggests, Waters's approach is to present the teaching of the key individuals within the Federal Vision movement and compare their teachings with a traditional, Reformed understanding of the Westminster standards and the Scriptures. At the heart of the Federal Vision movement is a reassessment of the covenant. Accordingly, Waters looks at "Covenant and Biblical History" (chap. 2), "Covenant and Justification" (chap. 3), "Covenant and Election" (chap. 4), "Covenant and Assurance, Perseverance, and Apostasy" (chap. 5), "Covenant and the Sacraments" (chaps. 6, 7), and "Sources of the Federal Theology" (chap. 8).
In each chapter, Waters carefully and fairly presents the teaching of the Federal Vision proponents. He demonstrates that at best their vision is blurred, while at worst their vision is blinded by misconceived presuppositions and faulty application of the Bible's teaching.
One of the difficulties in assessing the Federal Vision is that at the beginning of such a movement, ideas and teachings are often fluid and changing. The strength of Waters' book is that he has, in this reviewer's opinion, clearly understood the foundational issues. He has provided a helpful and needed tool to help sharpen our focus in setting forth the core doctrines of our biblical and Reformational heritage. I highly commend this book.