Reviews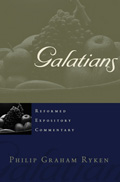 Galatians (Reformed Expository Commentary)
Phillip Graham Ryken
Reviewed by: Eric B. Watkins
Date posted: 09/30/2007
Galatians (Reformed Expository Commentary), by Phillip Graham Ryken. Published by P&R, 2005. Hardback, 328 pages, list price $24.99. Reviewed by OP pastor Eric B. Watkins.
This is the first volume in a new series of commentaries by P&R. The introduction describes the intentions of this and the forthcoming volumes. First, they are committed to being biblical. A high view of Scripture is indeed evident. Second, they are doctrinal: the Westminster standards are emphasized. Third, they seek to be redemptive-historical. That is, Christ is seen as the center of Scripture, the Old Testament is seen as Christ-centered, and he is the chief example of faith. Fourth, these volumes aim to be practical, applying the truth of Scripture to contemporary life, with illustrations. Those familiar with the commentaries of the late James M. Boice (who preceded Ryken as senior pastor of Tenth Presbyterian Church in Philadelphia) will find this volume (and perhaps the entire series) to be strikingly similar.
The commentary originated as a series of sermons. The chapters are sermonic and might prove helpful to anyone wanting to study one section of Galatians at a time. The language is not very technical, yet there is an attempt to deal with some of the linguistic or culture issues that may shed light on particular texts. There are few references to other commentaries. Most chapters begin and end with illustrations.
This is a safe commentary, clearly committed to Reformed theology. A helpful feature is the interaction with various challenges to Reformed doctrine (such as the "New Perspective on Paul"). It could be helpfully used for sermon preparation or personal study. The gospel is presented frequently, often in evangelistic form.
The book is written for a popular audience. Thus, it does not deal in depth with certain issues that a more serious student may wish to engage. The series should prove to be a good addition to our list of faithful commentaries. We look forward to future volumes.