Reviews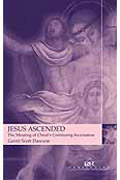 Jesus Ascended: The Meaning of Christ's Continuing Incarnation
Gerrit Scott Dawson
Reviewed by: Robert Letham
Date posted: 07/10/2005
Jesus Ascended: The Meaning of Christ's Continuing Incarnation, by Gerrit Scott Dawson. Published by P&R, 2004. Paperback, 269 pages, list price $17.99. Reviewed by OP minister Robert Letham.
The general neglect of Christ's ascension is deplorable. It is the hinge on which Luke-Acts turns, the terminus of the gospel and the starting point of Acts. It is integral to Hebrews, in which Jesus moves from the cross to the right hand of God, "having passed through the heavens."
Christ's ascension is his investiture with cosmic kingship (Eph. 4:8-10), from which he sends the Spirit to continue his prophetic work. Moreover, he departs to intercede for us by his continual presence in our nature at the Father's side, and to commune with us in the Eucharist (concurrent with his ascended ministry). Above all, Christ has taken our nature to the right hand of God, and we in union with him are seated in heavenly places. This is heady stuff, yet many Christians have given it scarcely a thought.
Dawson's book could help to remedy this sad situation. Theologically astute, biblically rooted, and intensely pastoral, it is also well written and widely accessible. It contains prayer guides and models for recovering the ascension in the life of the church. Dawson's teaching of the ascension in his congregation galvanized an outpouring of new ministries. He interacts with all the significant literature. With one notable exception, this is a book of great benefit.
The caveat has to do with Dawson's conflation of atonement and intercession (pp. 129-134). He writes that Christ's "very continuing life constitutes our atonement" (p. 132), for "it was in the ascension that he completed that atonement" (p. 133). Thus, "the atoning work continues in his vicarious humanity" (p. 133), since the blood of Christ is continually offered before the Father (p. 134). However, the Bible teaches that Christ's atoning work was completed once for all" on the cross - "It is finished!" - and is neither repeated, reenacted, nor prolonged. Dawson implies that something was left undone.
Indeed, if Dawson gives an explanation of why the cross was necessary, I missed it. In his view, the Incarnation does it all, coming to fruition in Christ's ascension and intercession.
When this caveat is kept in mind, this book can be read with great benefit. A grasp of Christ's redemptive work that embraces incarnation, atonement, resurrection, ascension, and heavenly session in a more integrated whole is a goal worth pursuing.