Reviews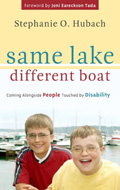 Same Lake, Different Boat: Coming Alongside People Touched by Disability
Stephanie O. Hubach
Reviewed by: Diane L. Olinger
Date posted: 04/27/2008
Same Lake, Different Boat: Coming Alongside People Touched by Disability, by Stephanie O. Hubach. Published by P & R, 2006. Paperback, 226 pages, list price $14.99. Reviewed by Diane L. Olinger, a member at Calvary OPC in Glenside, Pa.
In the opening pages of Same Lake, Different Boat, Stephanie Hubach tells the story of the day she gave birth to her son Timothy and was "surprised by disability." " In retrospect," she writes, I still can't believe that I didn't anticipate the possibility" (p. 22). Her son (now a teenager) has Down syndrome. Hubach is active in disability ministry within her church, denomination (PCA), and community.
According to Hubach, disability is a normal part of life in an abnormal world. Because God's good creation was marred by the Fall, "on every level of every dimension of the human experience there is a mixture of both the blessedness of creation and the brokenness of the fall" (p. 29). What does this imply about disability? "Disability is essentially a more noticeable form of the brokenness that is common to the human experience" (p. 29). Hubach argues that Scripture calls us to identify intentionally with the disabled. "Intentional identification" involves purposefully affiliating ourselves closely with another person or group, in contrast to identifying with those with whom we feel comfortable. We know that this is our calling, she argues, because Christ himself intentionally identified with those in need. In John 9, for example, Jesus went out looking for a blind man and found him.
Same Lake, Different Boat challenges the church to be hospitable to the disabled. "Statistics show that people with disabilities and their families are significantly underrepresented in their involvement with the church. Many of these individuals express that the church has been inhospitable to them either in attitude or because of architecture, or both." This part of the book is easier to assent to when it is general than when it is specific. In other words, it's easier to agree with Hubach that the church must love the disabled than it is to agree that this love must be expressed in the particular ways she enumerates in every situation and every place.
For instance, Hubach says that a church is guilty of "passive oppression" of the disabled if it "has a half-dozen steps to its front door and no alternative handicap-accessible entrance," or if it "fails to address the Christian education needs of a child with Down syndrome," or when someone is passed over for a leadership position because he is paraplegic (pp. 157-58). These certainly could be instances of sinful neglect by a congregation. However, scarcity of resources (money, time, energy, ability) might also be a possible cause. Such scarcity is as much an effect of the Fall as disability, and, as with disability, we don't normally blame those afflicted for their condition. But Hubach is an unabashed advocate for the disabled, and she would question whether the available resources are being rightly distributed.
Same Lake, Different Boat challenges churches and individual Christians to reevaluate their efforts to serve the disabled. In doing so, the book provides a good summary of the biblical case for service to all who are in need.