Reviews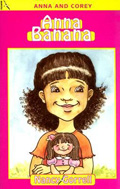 Anna Banana
Nancy Gorrell
Reviewed by: Erin Livingston
Date posted: 05/04/2008
Anna Banana, by Nancy Gorrell. Published by Christian Focus, 2006. Paperback, 94 pages, list price $6.99. Reviewed by Erin Livingston, a member of Calvary OPC in Glenside, Pa.
Anna Freeling is a typical girl who enjoys being with her friends, cooking with her mom, and teasing her younger brother. In Anna Banana, she learns lessons about forgiveness, trust, and gratitude from various incidents in her young life. This is a good book to read aloud to children 4-6 years old or to give to children 7-9 years old to read independently.
In the first lesson, Anna discovers how hard it can be to forgive when she endures teasing by a boy at church. The incident results in the ruin of her most precious doll.
In the second lesson, Anna finds out how praying and using God's Word can help her conquer her fear of the dark and trouble with nightmares. In the last lesson, Anna learns to be truly thankful and grateful for what she has, even when others get new things.
Anna's parents gently guide and direct her thinking by asking her questions about what the Bible says regarding her struggles. They have family worship each evening and this provides another opportunity to understand God's Word in our lives, even for little girls. Sunday school and worship on Sunday also point Anna to the relevance of Scripture in her own life. After each chapter, the author adds a section of questions about what happened, what you would do, and what Anna did. These provide a helpful catalyst for further discussion.
My own children (ages 4 and 6) thoroughly enjoyed these stories. I especially appreciated the emphasis on Scripture to guide their thinking as well as things my children could relate to - specifically, family worship, attending church on Sunday, and loving others in the church, even when it's difficult.
I will be looking for more books by Nancy Gorrell (an OP pastor's wife) for my own children and as gifts for others.