Reviews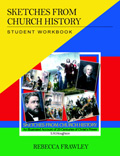 Sketches from Church History: Student Workbook
Rebecca Frawley
Reviewed by: Arthur J. Fox
Date posted: 06/01/2008
Sketches from Church History: Student Workbook, by Rebecca Frawley. Published by Banner of Truth, 2007. Spiral-bound, 122 pages, list price $17.00. Reviewed by OP pastor Arthur J. Fox.
Attention all home schooling parents, lovers of church history, novices in church history, and candidates for licensure and ordination in the OPC or PCA. Many years ago the Banner of Truth Trust published Sketches from Church History by S. M. Houghton. The book summarizes church history from the days of Christ to the modern missionary movement (about 1905). It is very readable, but some may find themselves wanting help to understand or organize the information contained in the book in a practical way.
Now comes this new workbook, which provides questions and exercises that will help the reader review material in Houghton's book. The questions are simply expressed, and the exercises are varied - even fun! For the teacher, there is a syllabus on page 1. There is plenty of blank space to answer questions and do the exercises, there are time lines throughout the book, there are tests, and there is an answer key at the end of each section. There are even suggestions of books for further reading on each period of church history.
The entire book is laid out in an attractive fashion. The only caveat is that Americans must keep in mind that S. M. Houghton wrote from a European and British perspective.