Reviews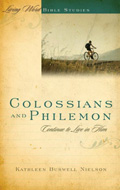 Colossians and Philemon: Continue to Live in Him
Kathleen Buswell Nielson
Reviewed by: Kathleen Curto
Date posted: 06/29/2008
Colossians and Philemon: Continue to Live in Him (Living Word Bible Studies), by Kathleen Buswell Nielson. Published by P&R Publishing, 2007. Spiral-bound, 124 pages, list price $12.99. Reviewed by Kathleen Curto, a member of Covenant Community OPC in Greenville, S.C.
For Christian women in Reformed circles, it is rare to find a Bible study guide that provides a rich and thorough study of God's Word and makes practical application of that word to our lives. Kathleen Buswell Nielson states in the introduction of her Bible study on Colossians and Philemon, that what motivated her to write this Bible study guide was her desire to find a "curriculum that would lead us into the meat of the Word and teach us how to take it in, whole Bible books at a time." She had led women's Bible studies in her church and was challenged by other women to write a study guide that would fulfill that desire. In the Bible study booklet Colossians and Philemon: Continue to Live in Him, she has accomplished that purpose.
The book is laid out in ten lessons (with a question-and-answer format), each of which is to be covered in a week. The Scripture text being discussed is anywhere from four to seventeen verses long. It is to be studied over the course of five days. Each day, a section of the passage is addressed in detail by asking questions. The questions either probe the meaning of the text or ask about its practical application in the Christian life. Mrs. Nielson often includes other Scripture verses that are useful in understanding Paul 's teaching. In the first lesson, which gives an overall view of the book, Colossians 2:6-7 is introduced as the theme of the book. She effectively refers to the theme verses in each of the subsequent lessons. Mrs. Nielson not only intends her readers to learn and glean from the passages of Scripture being studied, but also hopes to teach them helpful methods of studying the Bible "in all the right ways," as Philip Ryken states in the foreword of the book.
Mrs. Nielson intends this study to be an encouragement to daily reading, meditation, and memorization of Scripture, and a motivation to be serious and systematic in one's personal study of the Word. She anticipates that the end result of a study using this guide will be growth in the knowledge of God's Word, leading to progress in personal holiness and a deeper love for Christ.
I have used the book with one of the young ladies I disciple. I can highly recommend it for personal use, for use in one-on-one discipleship, and for group studies. Colossians and Philemon are beautiful epistles, written to refute the popular heresies of the day, to instruct members of the early church how to live in the world as faithful witnesses to their Savior; and to exalt Christ, who is seated at the right hand of God the Father. How do we do this in the twenty-first century? Colossians and Philemon: Continue to Live in Him is a great resource to help us along the way.