Reviews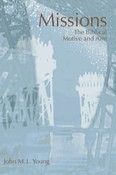 Missions: The Biblical Motive and Aim
John M. L. Young
Reviewed by: Philip T. Proctor
Date posted: 07/20/2008
Missions: The Biblical Motive and Aim, by John M. L. Young. Published by Crown & Covenant, 2007. Paperback, 176 pages, list price $10.00 (available at www.crownandcovenant.com). Reviewed by OP missionary Philip T. Proctor.
Missions: The Biblical Motive and Aim, by John M. L. Young, is a refreshing refocusing on the centrality of the church in the work of foreign missions. Dr. Young was a missionary to Japan from 1949 to 1966, and subsequently taught missions at Covenant College until 1981, when he returned to Japan.
At the opening of the first chapter, Young defines missions as "the work of the Triune God, through His Church, of sending Christ's ambassadors to all nations to proclaim His whole Word for the salvation of lost men, the establishment of indigenous churches, and the coming of God's kingdom, all for the glory of God." The remainder of the book is an expansion of this definition in a clear and irenic style, filled with scriptural support. While the work is a compilation of addresses to students, the language and style are straightforward and direct, easily accessible by the average lay-person.
In addition to presenting a thorough case for understanding missions as the work of the church, as opposed to individuals or parachurch agencies, Young wrestles with difficult "philosophy of ministry" issues, such as how to draw the line between a sinful accommodation of the gospel to the indigenous culture and a necessary identification of the missionary with the people to whom the gospel is being presented. Another difficult problem is that of financial assistance to the indigenous church. While Young's treatment of this problem leaves unanswered questions, I appreciate his attempt to engage this issue. Young seeks to be scriptural in all of his argumentation.
My only criticism of this otherwise excellent work is that some of the concerns Young raises are dated. (The book was originally published as a series of pamphlets in 1964.) For example, he sees Japan facing the specter of communism among college students. While this was a problem in the 1960s, those radical communists are today workaholic company men who have given their lives to a different idol. Young is also concerned with the ecumenical movement, which in the 1960s appeared poised to destroy the doctrinal integrity of the indigenous church. However, it has been my experience as a missionary in Uganda that the ecumenical movement is only peripheral to the indigenous church. These two issues, however, grow out of a laudable attempt on Young's part to address contemporary issues.
I highly recommend this book to anyone interested in foreign missions. Short term missionaries still work more effectively with long term missionaries if both understand that missions is God's work through his church. Those with an interest in long term missionary service will be greatly aided by this book, as will church leaders who desire their congregations to pursue a more thoughtful course of engagement in foreign missions. As we work out the implications of this church- based, God-centered philosophy of missions, our foreign mission ministries will be more effective and cohesive. May God grant that Young's work will play a part in accomplishing this goal.