Reviews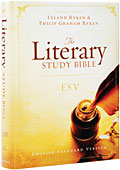 The Literary Study Bible: English Standard Version
Leland Ryken and Philip G. Ryken, Eds.
Reviewed by: Danny E. Olinger
Date posted: 07/27/2008
The Literary Study Bible: English Standard Version. General editors Leland Ryken and Philip G. Ryken. Published by Crossway Books, 2007. Hardback, 1,952 pages, list price $49.99. Reviewed by editor Danny E. Olinger.
For those who are in the practice of reading devotionally from the Bible—or for those who would like to start—The Literary Study Bible is a great Bible to use. As general editors, the father and-son team of Leland and Phil Ryken have added touches that make it more of a "reader's Bible" than the standard "study Bible." Formatted in a single column per page with no cross references, and with footnotes limited to standard ESV textual notes, passages can be easily read as complete units. Brief comments often appear before the start of a chapter or section, but they are unobtrusive.
This reviewer used The Literary Study Bible in reading through the books of Job and Luke, following McCheyne's Bible reading schedule, and found it very helpful. The single column text in Job allows the poetic speeches to flow, which enhances the arguments of each speaker. The fact that this is not a "red letter" edition of the Bible was refreshing to me as I read through Luke. Introductory material for both books was to the point, and the noting of literary genres deepened the reading. There is a glossary of literary terms at the end that the reader can consult.
The list price is $49.99, but most Internet booksellers are selling the volume for around $30.00.